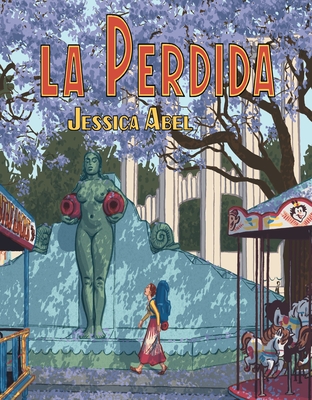 La Perdida (Pantheon Graphic Library)
Paperback

* Individual store prices may vary.
Description
From the Harvey and Lulu award–winning creator of Artbabe comes this riveting story of a young woman's misadventures in Mexico City. Carla, an American estranged from her Mexican father, heads to Mexico City to "find herself." She crashes with a former fling, Harry, who has been drinking his way through the capital in the great tradition of his heroes, William S. Burroughs and Jack Kerouac. Harry is good—humored about Carla's reappearance on his doorstep—until he realizes that Carla, who spends her days soaking in the city, exploring Frida Kahlo's house, and learning Spanish, has no intention of leaving.

When Harry and Carla's relationship of mutual tolerance reaches its inevitable end, she rejects his world of Anglo expats for her own set of friends: pretty-boy Oscar, who sells pot and dreams of being a DJ, and charismatic Memo, a left-wing, pseudo–intellectual ladies' man. Determined to experience the real Mexico, Carla turns a blind eye to her new friends' inconsistencies. But then she catches the eye of a drug don, el Gordo, and from that moment on her life gets a lot more complicated, and she is forced to confront the irreparable consequences of her willful innocence.

Jessica Abel's evocative black–and–white drawings and creative mix of English and Spanish bring Mexico City's past and present to life, unfurling Carla's dark history against the legacies of Burroughs and Kahlo. A story about the youthful desire to live an authentic life and the consequences of trusting easy answers, La Perdida–at once grounded in the particulars of life in Mexico and resonantly universal–is a story about finding oneself by getting lost.
Praise For La Perdida (Pantheon Graphic Library)…
"Jessica Abel's La Perdida is rich, engrossing, and memorable—a true graphic novel."
—Scott McCloud, author of Understanding Comics

"Put down your dog-eared Love and Rockets and read this. Fans of Los Bros will recognize a kindred spirit, but Abel is every inch her own artist. Her tale of Carla's catastrophic folly is fierce and unforgettable."
—Susan Choi, author of American Woman and The Foreign Student

"Jessica Abel is brilliant. She's created amazing work for years, and La Perdida is her classic. It's funny, politically astute, and heartbreaking. It's graphic novel poetry."
—Sherman Alexie, author of The Toughest Indian in the World
Pantheon, 9780375714719, 288pp.
Publication Date: May 20, 2008
About the Author
Jessica Abel is the author of Soundtrack and Mirror, Window, two collections that gather stories and drawings from her comic book Artbabe, which she published between 1992 and 1999. She also collaborated with Ira Glass on Radio: An Illustrated Guide, a nonfiction comic about how the public radio program This American Life is made. Abel won both the Harvey and Lulu awards for Best New Talent in 1997; La Perdida won the 2002 Harvey Award for Best New Series. Abel's young adult novel, Carmina, is forthcoming in 2007, and she is currently collaborating on another graphic novel, Life Sucks, and a textbook about making comics.