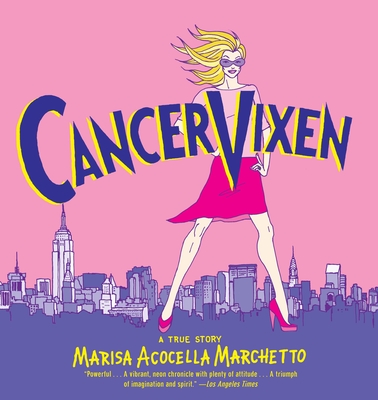 Cancer Vixen
A True Story (Pantheon Graphic Library)
Paperback

* Individual store prices may vary.
Other Editions of This Title:
Hardcover (9/26/2006)
Hardcover, Spanish (1/1/2008)
Description
The groundbreaking graphic memoir that inspires breast cancer patients to fight back—and do so with style.

"What happens when a shoe-crazy, lipstick-obsessed, wine-swilling, pasta-slurping, fashion-fanatic, about-to-get-married big-city girl cartoonist with a fabulous life finds . . . a lump in her breast?" That's the question that sets this powerful, funny, and poignant graphic memoir in motion. In vivid color and with a taboo-breaking sense of humor, Marisa Acocella Marchetto tells the story of her eleven-month, ultimately triumphant bout with breast cancer—from diagnosis to cure, and every challenging step in between.

•One of Time's top ten graphic novels of the year
•Slate.com's medical book of the year
•One of the Wall Street Journal's five best books on living with illness
•Finalist, Books for a Better Life
•Finalist, National Cartoonists Society Graphic Novel of the Year

"Powerful . . . A vibrant, neon chronicle with plenty of atti­tude . . . A triumph of imagination and spirit."
—Los Angeles Times

"Ebullient . . . Visually invigorating and unflinching."
—The New York Times Book Review

"Irresistibly authentic . . . These words and pictures convey humility and humanity with witty grace and heartfelt power."
—The Miami Herald

"Funny, eye-opening, moving."
—Time
Praise For Cancer Vixen: A True Story (Pantheon Graphic Library)…
"There's emotion, fear and vulnerability in [Cancer Vixen]. Plus almost a step-by-step guide to cancer diagnosis, surgery and treatment. But above all, for any cancer patient male or female, there's hope and optimism." –Terry England, Santa Fe New Mexican"Marisa Acocella Marchetto had the last laugh on her cancer. The New York-based cartoonist turned the disease on its head, by transforming her own battle with breast cancer into a big fat comic book, Cancer Vixen. The emphasis is on 'comic' . . . Marchetto's goal was not, of course, to make light of or diminish the severity of the disease or her own condition, but to bring her seemingly boundless spirit into the healing process. It worked. Not only is her cancer in remission, but Cancer Vixen has become a publishing hit . . . This is triply good because she's donating part of the proceeds from the book to breast care for underprivileged women."–Alan Bisbort, Republican-American"Your remarkable book illustrates how the power of humor can transform a serious life event into an opportunity for personal growth as well as preservation of health. And it is just plain funny too: Congratulations on a terrific work of art that is as wise as it is witty. I will be recommending it widely." –Dr. Larry Norton, Chair of Clinical Oncology, Memorial Sloan-Kettering Cancer Center"One of the powerful revelations of Cancer Vixen is [that] cancer isn't just an individual diagnosis; it has a social dimension that can affect patients as much as the therapies they choose . . . Marchetto gives us a vibrant, neon chronicle of her fears, her search for understanding and her efforts to cope with a diagnosis that arrives as she's planning her wedding. Oh, and there's plenty of attitude . . . A triumph of imagination and spirit." –Nick Owchar, Los Angeles Times "'I didn't just want to write about cancer,' [Marchetto] says . . . What you realize, when you read the book, is that what she writes about, in the end, is life–which in some cases includes cancer–and it becomes the story of how one woman's life was changed by her experience. [There are] wonderful visual images in the book [that] are funny and heartwarming and sad and lovely, and they make you think. In addition, the book functions as a documentary, providing an incredible amount of information to women who are facing a cancer diagnosis themselves . . . A remarkable blend of firsthand narrative and a cartoonist's singular perspective that makes her form of storytelling unique . . . [There are] a slew of heartwarming and hysterically funny moments . . . The reader is truly transported into [Marchetto's] world."–Diana Price, Women & Cancer "[Marchetto] details the difficulties and indignities of her 11-month [breast cancer] treatment with a warmth and humor that makes it impossible to put the book down until you've finished the last, color-drenched, completely hysterical while simultaneously tear-jerking page . . . . The book is sweet and optimistic while never flinching from staring pain and fear directly in the eye . . . If you know someone dealing with breast cancer or are facing the disease yourself, you should absolutely give this brilliant, witty and beautiful book a try. [Marchetto's] very personal and very human story will help you count your many blessings, one by one." –Mary Harvey, Rambles magazine "If you have to fight for your life, why not do it in a fabulous pair of Charles Jordan blue metallic snakeskin Lucite pumps? Enter the world of Marisa Acocella Marchetto, a cartoonist and cancer survivor who chronicles her battle with the disease in a surprisingly irresistible graphic memoir about triumphing with style. From Page 1 of Cancer Vixen, you know you're in for something different . . . [Marchetto offers] a vivid account–made only more powerful with her breathtakingly honest drawings–about getting the worst news of your life at the best time of your life . . . What ensues is a courageous, original take on Marchetto's frightening, yet oftentimes hilarious–humor is the best medicine, right?–road to recovery, complete with colorful, attention-grabbing drawings . . . Marchetto's book is like one of the fabulous late-night meals she and [husband, restaurateur Silvano Marchetto] share in the book: a delectable entrée of love and friendship . . . Friends and family rally in loving, if sometimes outrageous, ways. Add to that a tasty side dish–and I do mean dish–of the catty world of magazines and the 'It' people who live in it, and you end up with a satisfying taste of triumph when Marchetto finally kicks the cancer in (you guessed it) a fabulous pair of shoes . . . [An] absorbing and inspiring tale of a woman who knows how to do things–even fight cancer–in style. And who comes away with a better understanding of herself, her surroundings and the joy of slowing down just enough to enjoy life." –Helen Ubinas, The Hartford Courant "The tone is Sex in the City in this memoir by New Yorker cartoonist Marisa Acocella Marchetto about her triumphant battle with breast cancer. Illustrated with wit and charm, fashionista Marchetto packs her story full of details about love, her mother, health insurance and shoes." –Elizabeth Taylor, Chicago Tribune (Editor's Choice) "Marchetto's illustrated chronicle [of her battle with breast cancer] is as much about the support and love she received as it is about her fight against the disease. Cancer Vixen is definitely an encouragement tool for women who are waging the same battle." –Karen Grigsby Bates, npr.com "My favorite medical memoir of the year was Cancer Vixen, a graphic novel by New Yorker cartoonist Marisa Acocella Marchetto. At 43, Marchetto is just three weeks shy of her wedding day when she finds a lump in her breast. Her cartoon self is sucked upside down into a black hole. Abnormal cells are illustrated as little green monsters sticking their tongues out and giving her the finger. She is terrified her fiancé will leave her. Marchetto chronicles her experiences with doctors, medical jargon, needles, chemo cocktails, and radiation with a directness and wit that struck me as wholly original. The illustrated format lightens the tone and creates a structure in which wry punch lines can proliferate without seeming glib. The book is most of all a love story, spiked with jealousy, tenderness, and great Italian cooking. It's remarkably playful, but the passions and struggles are not cartoonish at all."–Amanda Schaffer, Slate"This courageous memoir is painful, funny, self-deprecating, biting, and, yes, inspirational. Cancer Vixen is more than just another book about surviving a life-threatening illness. It is a well-defined portrait of an extremely accomplished woman who declares war on a tumor and sets out to beat it . . . If you have a friend who is facing or fighting cancer, do them a favor and get them a copy of this incredible book. It is highly recommended and might just be the extra help they need." –Larry Cox, Tucson Citizen (Grade: A) "Marchetto limns her brush with cancer in a tale that is at heart a love story. Her romance with restaurateur Silvano Marchetto is a charming and touching part of the narrative, but the battle and eventual acceptance of some of the more unpleasant aspects of life is the real meat of the story. [Marchetto's] personality, radiating from every page, is irresistibly authentic . . . [and] the author's words and pictures convey humility and humanity with witty grace and heartfelt power." –The Miami Herald (Broward County Edition)"Marchetto recounts her fight with breast cancer–the endless rounds of chemo, her nagging self-doubts, her dwindling energy–with a blend of humor and honesty. Best of all, the self-effacing Marchetto avoids being maudlin, focusing on how she uniquely coped during her treatment. Her engaging and colorful personality is a perfect match for the explosion of pastel panels she's created in these pages. There's a lot of truth, heart and laughs to her story. A perfect gift for the cancer survivor in your life." –Randy Myers, Contra Costa Times"At 43 years old, Marchetto was three weeks away from marriage to the man of her dreams, her career as a cartoonist for Glamour and The New Yorker was on track–and, oh yeah, her health insurance had just expired–when she got the bad news: She had breast cancer. Her comic memoir details the many indignities of her treatment (the breast that turns blue from a needle puncture, the holistic doctor who treats her with corny music and a few of his own self-help books) and how her illness affected friends and family. Final word: Marchetto tackles the issues with humor and a big heart." –Rodney Price, Rocky Mountain News"Even before its release, Marisa Acocella Marchetto's Cancer Vixen was a huge hit in the blogosphere, generating a tsunami of buzz . . . What makes it work is the funny, disarming superheroine of the title–Marchetto herself, determined to be a Vixen and not a Victim, and living an ordinary life (considering that she is a cartoonist for the New Yorker and Glamour, as well as the now-wife of a food celebrity, Silvano Marchetto, who drives a Maserati and has published his own cookbook) and struggling with ordinary problems as she comes to grips with a potentially life-threatening disease. Among the central characters is the adorable Silvano, proprietor of the celebrity-studded West Village restaurant that bears his name, Da Silvano. Also irresistible in her own way is Marchetto's domineering mother, or '(s)mother,' as she is affectionately dubbed. On the fringes are legions of hip Manhattan BFFs (best friends forever)–fellow cartoonists, editors at big fashion magazines, 'It' Manhattanites of every stripe. Because of course this isn't really an ordinary life: it's a life lived always on the fringes of celebrity, a sort of 'Cancer in the City' for the modern woman. Marchetto dabbles in Kabbalah and alternative therapies, visits a quack, grapples with a 'rival cartoon girl,' adores expensive shoes, and suffers the insolent barbs of the shallow supermodels who flock to Da Silvano. Cancer Vixen is tremendous fun, bubbly and sweet and optimistic. Like her husband, whose favorite phrase seems to be 'che bella giornata!' (what a beautiful day!), Marchetto counts her blessings and loves her complicated, high-heeled life." –Mary Brennan, The Seattle Times"Bold and brazen . . . [Marchetto] chronicles her experience [fighting breast cancer] in a series of cartoons that will make you think–and yes, even laugh." –Carol Fitzgerald, Bookreporter.com"This talented cartoonist's memoir of her battle with breast cancer is good enough that it'll have you standing outside the running shower in the morning, unable to put it down." –washingtonpost.com"What self-respecting, lipstick-loving, high heel-crazy fashionista would want to be a victim when she could be a vixen? Still, it took 43-year-old cartoonist Marisa Acocella Marchetto some long sleepless nights to come to terms with her breast cancer . . . The bright, colorful panels of [Cancer Vixen] belie the struggle Marchetto faced when she learned she had breast cancer and was facing a lumpectomy, radiation and chemotherapy. The news, falling within a few weeks of her wedding day, was devastating . . . Marchetto makes us privy to the many demons that stalked her days. She also gives us a peek into what sustained her: friends, her future husband, even her (s)mother. By the end of Cancer Vixen, Marchetto and Silvano's wedding is featured in the New York Post as 'wedding of the week.' And then, life continues." –Chris Watson, Santa Cruz Sentinel"Facing breast cancer with a positive attitude was the key lesson [of] Marisa Acocella Marchetto, the creator of the feisty and upbeat cartoon alterego, Cancer Vixen, the subject of a book published last month . . . [Marchetto] is donating a portion of book sale proceeds to the [Breast Cancer Research Foundation] and to St. Vincent's Hospital to help uninsured women pay for breast cancer treatment." –A. L. Gordon, The New York Sun "Brilliant." –New York Post "When doctors found a tumor in her left breast two years ago, New Yorker cartoonist Marisa Acocella Marchetto discovered that pen-and-ink can be mightier than bad news. She documented her yearlong duel with breast cancer in Cancer Vixen, a graphic memoir that is irreverent, touching and frequently hilarious . . . . Marchetto both frames and lampoons herself as a shoe-obsessed, Carrie Bradshaw type, who is awakened from her Sex and the City fantasy life by a pearl-size growth. The image is part-caricature, part real life. Slender, blond and a dedicated follower of fashion, the 45-year-old artist certainly [fits] the part . . . . The shoe therapy actually helped her survive, she said, reasoning that if she looks good, she'll feel good . . . . 'It's about having a positive attitude,' Marchetto said [of battling breast cancer], 'and fighting with the best pair of shoes you can possibly wear." –Bo Emerson, The Atlanta Journal-Constitution, cover"With wit, style, irreverence, and gobs of humor Marchetto chronicles her triumphant 11-month battle [with breast cancer], introducing readers to an impressive cast of characters: her incredibly supportive fiancé-then-husband, lifelong friends, over-the-top mother, Violetta, magazine editors, plastic surgeons, and leggy fashionistas. And, of course, there are plenty of references to Marchetto's killer shoe collection, which includes Hotel Venus patent pumps, circa-1994 Chanel slides, and Pucci rain boots . . . 'The book is really a love story,' [says Marchetto] wistfully. 'It's about my incredibly supportive group of friends and about me trying to appreciate everything in life. My negativity is in remission. I feel really lucky, and I want to give back.' And indeed, Marchetto is giving back: She'll donate a portion of the proceeds from her book to provide breast care for underprivileged women at the Comprehensive Cancer Center at St. Vincent's Hospital Manhattan and to the Breast Cancer Research Foundation, and she recently sponsored a day of free mammograms at St. Vincent's. And don't think Marchetto has given up on her love for fashion or her passion for kick-ass shoes: 'I just got a fabulous pair of Alexander McQueen boots. I'm mad for them!'"–Jason Oliver Nixon, Gotham magazine "Spitfire cartoonist and self-described 'fashionista' Marisa Acocella Marchetto was on a career high and shopping for a wedding dress when 'D. Day' (that is, diagnosis day) arrived, sucking her into a black hole of anxiety. Cancer Vixen is living proof that even angst, quacks, fear of no-hair days, know-it-all friends, and embarrassing side effects can be good for a laugh–and that sometimes you have to raise a little hell to heal." –Cathleen Medwick, O, The Oprah Magazine"There are already more than enough Web sites and books and pamphlets and classes about breast cancer to keep you totally well informed (and totally terrified), but few of them are any fun. Not so Marisa Acocella Marchetto's graphic memoir, Cancer Vixen. Marchetto, a contributor to The New Yorker, manages to be unflaggingly perky as she tells us the story of her cancer, starting with her diagnosis three weeks before her wedding. She gives us haunting drawings of cancer's victims, whom she places up in the clouds, still grouped in the 'cancer clusters' in which they died. (Remember Love Canal?) But mostly, Marchetto's cartoons in this book are ebullient: cancer cells under the microscope are little green circles sticking out their tongues and giving you the finger; the grim reaper wields a vacuum cleaner; her higher self is a floating, one-eyed yogi with amazing abs. But Cancer Vixen isn't all silliness. There are important lessons about treatment options and insurance (women–like Marchetto herself–who are uninsured at the time of their diagnoses have a 49 percent greater risk of dying from breast cancer) . . . [Cancer Vixen is] visually invigorating and unflinching . . . Marchetto's sunny drawings comfort and amuse while providing a beneficial education on cancer's dark details." –Ariel Levy, The New York Times Book Review"[Marchetto] successfully tap[s] a well of humor and shared life experience, painting on the pathos without bumming us out in the process . . . She recounts learning that she had breast cancer during what appeared to be one of the happiest times in her fashion-savvy, Sex and the City-style life. Fans of Marchetto's illustrated reporting for Glamour and The New York Times know what kind of rich, detailed storytelling to expect. Her unflagging sense of humor in the face of the bleakest of subjects keeps the story from becoming mired in self-pity. Marchetto's pen-and-ink drawing style–and all 212 pages are rendered in full color–offers readers a realistic glimpse into the tools used in her treatment (including all 29 needles she was poked with), as well as the entire chemotherapy process. But what will stick with readers most are her flights of fantasy (as when she imagines a personal nuclear meltdown over the way women treat one another) and her lovingly rendered, appreciative asides on the support of friends and her overbearing mom (whom she dubs '(s)mother') . . . [Cancer Vixen makes] for a unique and appealing introduction [to graphic storytelling] for newbies taking their first nibble at this ever-expanding medium."–Todd Camp, The Philadelphia Inquirer"A serious and uniquely poignant memoir. As a cartoonist for the New Yorker and Glamour, Marchetto covers the 'It' life in Manhattan. Her BFFs (best friends forever) include gossip columnists and celebrity stylists, and she is engaged to the proprietor of one of the hottest restaurants in the city. Her life is a whirlwind of parties, fashion shows and gourmet food. That all changed one month before her wedding, when she finds a lump in her breast. After the initial shock and despair, she decides to face her new reality without hand-wringing. Despite the Sex and the City overtones, Cancer Vixen doesn't paint breast cancer as a temporary roadblock to fabulousness. Marchetto shows you in great detail how unglamorous her life quickly becomes, from the side effects of chemo to the models who see her illness as an opportunity to hit on her husband . . . Amid this bleakness are the remarkable characters who populate the life and book of Cancer Vixen . . . Cancer Vixen is certain to refine the language of breast cancer in its own, quirky way." –John Vaughn, Cleveland Plain Dealer"Being diagnosed with breast cancer is devastating enough. Now add learning this news three weeks before wedding the man of your dreams. Now realize you accidentally let your health insurance lapse a few months prior to diagnosis. Then, as icing on the cake, watch your future husband be shamelessly hit on by models–right in front of you–while you sit there and wonder if you'll even have both breasts a year from now. Glamour and New Yorker cartoonist Marisa Acocella Marchetto went through all of this [and] she somehow kept enough of a sense of humor through it all to produce Cancer Vixen, a boldly told, vibrantly illustrated serial cartoon in hardcover that will make readers never look at animation the same way again."–Julian Kesner, New York Daily News "Even if Marchetto's illness provides the central drama of Cancer Vixen, it's hardly the whole story. This is less a book about cancer with a capital C than a highly entertaining one about what day-to-day life is like when cancer throws a wrench in the works. It may seem strange to call a book that deals with breast cancer pleasurable, but Marchetto's is . . . . Marchetto chronicles her adventure in vivid detail as she and her mother–whom she affectionately refers to as her '(s)mother'–check out various doctors and treatments. For Marchetto, fighting cancer meant keeping up appearances: She draws, in loving detail, the shoes she wore to each chemo session (Casadei faux-croc platforms in October; Pucci rainboots in November). It also meant worrying about far more practical matters, such as the possibility that having chemo in her right hand might permanently affect her ability to draw . . . Marchetto details even the most frightening aspects of cancer with wry humor . . . And with affectionate candor she draws, and describes, her annoying but indispensable (s)mother, a vision in cat's-eye glasses and multiple pendant necklaces . . . Maybe the key to Cancer Vixen is the way Marchetto pays attention to all details, not just those directly related to her illness . . . . Cancer Vixen suggests that routine is the stuff of life–and your greatest source of strength when death comes snooping around your door."–Stephanie Zacharek, Newsday "In her humorous and touching graphic memoir, Marchetto chronicles her transformation from a 'shoe-crazy, lipstick-obsessed . . . big-city girl cartoonist' to a woman with more important things to worry about. Instead of wallowing in despair, Marchetto fights back. Her primary weapons? Her art and an ever-changing array of designer heels. This is not a hand-holding, comforting, docile memoir. Her sense of humor keeps even the darkest moments from being too emotionally devastating. She yells, literally, at death, but still maintains an eye for the fashionable (an NYU hospital gown is deemed 'very Diane von Furstenberg')." –Rachel Kramer Bussel, New York Post, four stars"New Yorker cartoonist Marisa Acocella Marchetto's trip to the altar took a detour when she found a lump in her breast. Cancer Vixen, a canny melding of Sex and the City and "Wit" in illustrated form, follows her evolution from stiletto-heeled satirist to self-possessed survivor–and wife of restaurateur Silvano Marchetto." –Vogue"The great thing about writing a cancer memoir in graphic form? Not only can you talk about your cancer, but your cancer can talk back. In this smart, funny chronicle, Marchetto's cancer cells, drawn like delinquent happy faces, stick out their tongues and flip her the bird. In 2004, Marchetto, 43, is a sharp-witted cartoonist who gives more thought to hair and shoes than to her health insurance, which she's let lapse. Newly engaged, she is stunned to learn that a pearl-sized lump is malignant. Full of wisdom and anger, her story reveals how, through a lumpectomy, chemo and radiation, she learns what's really important: friends, family, [and] her adorable husband."–Judith Newman, People magazine, four stars"Cancer Vixen [is] the suspenseful tale of what happened to the author after she found a cancerous tumor in her breast weeks before her wedding . . . . The genius of the book lies partly in the perfect depictions of the author's eclectic media circle, but mostly in the emotional drawings, the terror in the protagonist's face during a chemotherapy treatment . . . [But] there are aspects of Cancer Vixen that keep the horror at bay . . . [The] most special thing is the love story: a romance in a haunted place. Like the movie Old Dark House, in the most chilling, thundering night, in cold damp rooms, a couple falls in love. Very fast." –Toni Schlesinger, New York Observer, cover"Which pair of shoes should you wear to your first chemotherapy session? That's one of the pressing issues dealt with in this funny, eye-opening and moving memoir. Weeks before she's due to (finally!) get married, the 43-year-old cartoonist-fashionista discovers a lump in her breast. Using a lipstick-color palette, Acocella Marchetto keeps the book upbeat. As good as the best Sex and the City episodes, Cancer Vixen becomes a lesson on how staying fabulous can help save your life." –Andrew D. Arnold, Time magazine "Humorous . . . . [Marisa Acocella Marchetto] was an urban glamour queen who had just started seeing a sexy Italian chef when she was diagnosed with breast cancer. Her self-mocking approach to the distinctly unglamorous cancer-treatment process is nicely paired with her sly, sophisticated illustrations." –Becky Ohlsen, Bookpage "A cartoonist for The New Yorker and Glamour discovers she has breast cancer only three weeks before her wedding to an Italian celebrity chef/restaurateur. What follows is a 'war' with the disease, told with mordant wit in a full-color graphic memoir that leaps boldly from the page. Marchetto's memoir is a testament to the power of the personal story, especially in the emerging graphic form, which is used here to great effect." –John Marshall, Seattle Post-Intelligencer"Let's say you live the fabulous only in New York (and the movies) version of life, publishing cartoons in The New Yorker. And let's say that after years of being single, you're about to marry an adoring Italian who happens to be the city's "It" restaurateur. And let's say that three weeks before your wedding, you're diagnosed with breast cancer. What do you do? If you're Marisa Acocella Marchetto, you do what you're best at and create a gorgeous, hilarious graphic memoir about getting sick, getting mad, getting married, and kicking cancer's ass. Cancer Vixen documents Marchetto's adventures in chemo, kabbalah, recovery, which she does with the help of her fiancé, several BFFs, and her magnificently bossy diva mom. This is no gloomy autobiography. Marchetto is witty, self-aware, and totally free of self-pity. Though Cancer Vixen has tear-jerking moments, more often than not it'll have you crying with laughter." –DailyCandy New York "[Cancer Vixen] has been generating buzz . . . [It] describes how cartoonist Marisa Acocella Marchetto fell in love with a celebrity restaurateur and was planning their wedding when she was diagnosed with breast cancer and realized that she had let her health insurance lapse. Her friends–stylists, gossip columnists, designers–rallied around her as she wore killer shoes to chemo sessions and strove to get married on time." –Borys Kit, The Hollywood Reporter "Within the pages of The New Yorker, among the drawings of nebbishy professor types and slugs who crack wise, lurk cartoons whose characters aren't like the others. In Marisa Acocella Marchetto's panels, women wear clothing recognizable to Vogue readers and make comments like, 'So what if he doesn't know Ovid? He knows Ovitz.' But Marchetto's autobiographical debut isn't an illustrated tale of sample sales and parties (OK, there are some parties). Three weeks before her wedding, she finds out she has breast cancer . . . Equal parts painfully touching and hilariously funny, there's nothing about Cancer Vixen that makes breast cancer seem like a picnic. Marchetto's attitude, however, is a different story. She wears blue metallic snakeskin lucite pumps to her chemo sessions, and she cracks jokes about the chicness of head wraps at fundraisers–proving that an uplifting cancer story doesn't have to be soppy." –Rebecca Braverman, Bust magazine "Things were going so well for Marisa Acocella Marchetto. Her cartoons were being published in The New Yorker, and at the age of 43 she had finally become engaged for the first time, to restaurateur Silvano Marchetto. And then five months later her world turned upside down with a diagnosis of breast cancer. So Acocella did what she does best–she wrote (and drew) an utterly charming graphic novel about her bout with cancer. Cancer Vixen is hilarious, especially its portrayal of her overbearing Italian mother, whom Marisa calls the Sophia Loren of New Jersey. But at the heart of the book is Acocella's relationship with her husband, Silvano, who owns Da Silvano, a trendy downtown-Manhattan restaurant . . . They were married less than a month after her diagnosis . . . The comparison to another Manhattan career girl, Carrie Bradshaw, would not be a stretch. For one thing, Acocella shares the addiction to shoes." –Nicki Gostin, Newsweek"New Yorker cartoonist Marisa Acocella Marchetto's [life changed] the day a doctor found a lump in her breast. Cancer Vixen, her inspiring comic-book memoir, cannily plays with the idea of cancer survivor as superhero. Marchetto . . . learns to live in the moment with the help of glamorous New York BFFs, as she calls them . . . But the presence that looms largest . . . is Marchetto's overexcitable mother." –Marshall Heyman, W magazine"What's a New Yorker cartoonist fashionista who gets breast cancer to do? Draw a cartoon about it, of course, and this painful and very funny memoir is the result. Determined not to cave into gloom and doom, Marchetto negotiated 'chemo light' to keep her hair; wore killer shoes to chemo sessions, and dithered that her fiancé–an 'in' restaurateur hit on by hot models–would dump her. Advice from everyone complicates her crisis. Her mother advises, 'Get rid of your negativity, hon,' her Best-Friends-Forever brigade recommend numerous experts, her higher self hovers cross-legged over her head admonishing, 'You have a lot of spiritual work to do!' Marchetto's account is not merely vivid and engrossing but also a close-up of what a cancerista could expect . . . Highly recommended. "–Library Journal, starred review"A health crisis provides an accomplished cartoonist with the richest material of her career. Though there's never an ideal time for someone to learn she has cancer, Marchetto . . . found it particularly ironic that the worst news she'd ever received came during the best stretch of adult life she'd ever enjoyed. She'd started selling cartoons to the New Yorker . . . had fabulous friends, fabulous shoes and an overstuffed apartment she could afford. Best of all, she had fallen madly in love with a celebrity restaurateur who somehow preferred her to all the leggy models who patronized Da Silvano's and fawned all over him. Then she discovered the lump, learned she had breast cancer and realized that she had let her health insurance lapse. From this potentially depressing material, the author has drawn a triumphant, biting, self-deprecating, journalistically detailed and frequently hilarious account of true love conquering all . . . . Somehow, the graphic artist has taken the tone of Sex and the City into the cancer ward, with a happy ending that makes her memoir seem all the more life-affirming. Inspirational proof that there's nothing like a death scare to put life into perspective." –Kirkus Reviews, starred review"Cancer Vixen… [is] Marisa Acocella Marchetto's Sex in the City—style portrait of her battle with breast cancer."–Elizabeth Williams with Raya Kuzyk, Library Journal"Cancer Vixen is a visually electric read, but it's also a good old-fashioned story of triumph–starring a New York woman with great shoes, fast-talking friends and the most honest dialogue I've ever read about what it's like to face disease. Cancer Vixen is 100% unputdownable. This is NOT a treacly survival story, NOT an expected woe-is-me tale–it's a lively, surprising, and completely absorbing story of single life, love, best friends, clothes, work travails, New York apartments, late dinners . . . and, yes, cancer. I just love this book."–Cindi Leive, Editor-in-Chief, Glamour"I salute Marisa Acocella Marchetto and women like her who not only have the courage to battle breast cancer, but are able to do it with such unflagging optimism, creativity and humor. Marisa's willingness to share her experiences in such an honest, personal way is an incredible inspiration–whether you have experienced breast cancer yourself or love someone who has endured its many challenges."–Evelyn H. Lauder, Founder and Chairman, The Breast Cancer Research Foundation"Cancer Vixen redefines the memoir by expanding what's possible in the genre. Incredibly bold and brave, inspiring and absolutely packed with life-force, it's one of the freshest works of autobiography I've read in years. Part love story, part survival guide, Cancer Vixen is for everyone who would never read a cancer book. And it's for everyone who believes they'll never fall in love. Here's proof that sometimes the worst thing that can happen to us is actually the very best thing, in disguise."–Augusten Burroughs, author of Running with Scissors and Dry: A Memoir"Cancer Vixen is so powerful it made me cry as I laughed. Marisa Acocella Marchetto's strength and wit in the face of such a terrible disease should be a beacon for all women."–Paula Froelich, CBS's "The Insider" correspondent, reporter for New York Post's Page Six gossip column, and author of It! Nine Secrets of the Rich and Famous that Will Take You To The Top
Pantheon, 9780375714740, 224pp.
Publication Date: September 29, 2009
About the Author
MARISA ACOCELLA MARCHETTO is a cartoonist for The New Yorker and Glamour. Her work has also appeared in The New York Times and Modern Bride, among other publications. She is the founder and chair of the Cancer Vixen Fund at St. Vincent's Hospital in New York City, where she lives.
or
Not Currently Available for Direct Purchase