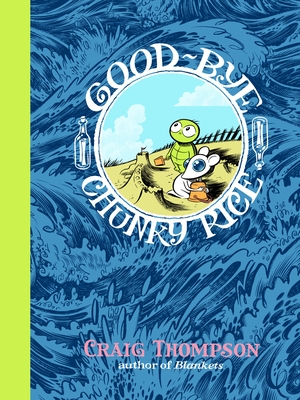 Good-bye, Chunky Rice (Pantheon Graphic Library) (Paperback)
Pantheon, 9780375714764, 128pp.
Publication Date: May 9, 2006
* Individual store prices may vary.
Description
This here be the first ever "graphical novel book" by Craig Thompson. It was winnning a Harvey Award, no less. It documentates the once upon a time in our fishing village town and a short turtle lad name of Chunky, last name Rice.

Mister Chunky Rice be living in the same rooming house likewise myself, only that boy be restless. Looking for something. And he puts hisself on my brother Chuck's ship and boats out to sea to find it. Only he be departin' from his bestest of all friends, his deer mouse, I mean, mouse deer chum Dandel.

Now why in a whirl would someone leave beyond a buddy? Just what be that turtle lad searchings for? I said you best read the book to find out. Merle said, "Doot doot."
About the Author
Craig Thompson was made in Michigan in 1975, but risen up in Wisconsin and he drawed this very here book after departin' for Portland, Oregon, in 1997 and missing likewise his chums and girl-buddies.

He's mostest beknown for his best–sold graphical novel book Blankets — to be winning also three Harvey Awards and two Ignatz Awards. Translationized into thirteen — count 'em — languages, lands like Morocco and Switzerland and Phoenix, but he's plopped hisself settled-like in Portland. For the being-time.
Praise For Good-bye, Chunky Rice (Pantheon Graphic Library)…
"Both funny and genuinely touching in turn, Craig Thompson's Good-bye Chunky Rice is an affecting meditation upon friendship, loneliness, and loss, all delivered with a real feel for the musicality of the comic strip form. This work sings and dances, and you could do a lot worse than to sing and dance along with it. Highly recommended."
—Alan Moore, creator of From Hell and Watchmen