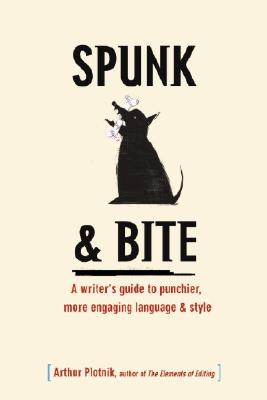 Spunk & Bite
A Writer's Guide to Punchier, More Engaging Language & Style
Hardcover

* Individual store prices may vary.
Other Editions of This Title:
Paperback (5/8/2007)
Description
When too tightly leashed, writing chokes and loses its vitality. Although the rules of composition popularized in William Strunk Jr. and E. B. White's Elements of Style have been de rigueur for decades, they won't exactly set your writing free.

To the rescue comes Spunk & Bite, a guide to bold and radiant language and style. The secret, according to bestselling author and former publishing executive Arthur Plotnik, is to embrace those qualities that composition rulebooks sidestep–among them, surprise, personality, engagement, edge, and fearlessness. Drawing on selections from today's most exciting writers–Jonathan Franzen, Sandra Cisneros, Bill Bryson, Maureen Dowd, and many dozens more–Plotnik reveals the tricks and techniques that make prose fresh, forceful, and publishable.

For all types of writing–novels, articles, poems, ad copy, blogs, and even e-mail–this uncommon handbook reveals how to make your words so fetching that readers beg for more.


Arthur Plotnik is an author, and former publishing executive. Two of his works have been featured as Book of the Month Club selections: The Elements of Editing and The Elements of Expression: Putting Thoughts into Words . Reviewers have consistently praised Plotnik's writing for its accuracy, style, and wit, often ranking it with Strunk & White in practicality.

Plotnik studied under Philip Roth and Vance Bourjaily at the Iowa Writers Workshop . As a publisher, he brought five national awards to the American Library Association's book imprint. He also won numerous honors as editor of ALA's flagship magazine, American Libraries.
Praise For Spunk & Bite: A Writer's Guide to Punchier, More Engaging Language & Style…
Poynter Online - (Chip Scanlan, "Chip on Your Shoulder"), March 6, 2006
Instead of rules, "Spunk & Bite" offers choices bolstered with real-world examples. . . . Plotnik . . . zooms in close, helping writers deconstruct their prose from the ground floor -- word to clause to sentence -- up to paragraphs and chapters to our Holy Grail, a finished piece of writing. . . . Unlike Strunk & White's catalogue of abstractions and rhetorical ruler slaps, Plotnik's "Spunk & Bite" is refreshingly concrete. Its author know his linguistic stuff and so can you.
College and Research Library News - March 2006 (George Eberhart)
[A] bookful of remedies for literary listlessness, sprinkled with examples of ringing prose penned by wordsmiths from Poe to Proulx. Plotnik rips past the rigid rules of Strunk and White's 1959 Elements of Style and calls on writers to invigorate stodgy phrasings and pallid diction with freshness, texture, force, and form. Each chapter contains apt advice on what to avoid (actionless action, wandering modifiers, exhausted adverbs) and what to emulate (over-the-top tropes, killer megaphors, enallage, foreignisms, nuanced semicolons, edgy style). An energetic and entertaining read for cramped writers.

Random House Reference, 9780375721151, 272pp.
Publication Date: November 15, 2005
or
Not Currently Available for Direct Purchase