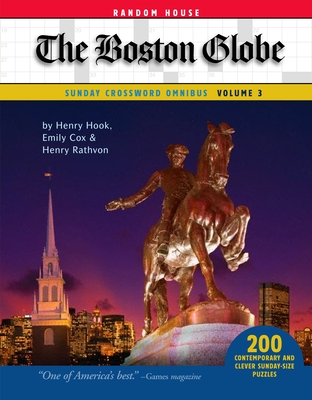 The Boston Globe Sunday Crossword Puzzlr Omnibus, Volume 3 (Paperback)
Random House Puzzles & Games, 9780375721861, 224pp.
Publication Date: October 10, 2006
Description
These 200 devilishly clever puzzles from skilled puzzlemakers Henry Hook, Emily Cox & Henry Rathvon are among the wittiest around. Sure to delight crossword fans everywhere, these puzzles will make you laugh, they'll make you groan, and they will give you a sense of satisfaction when you complete them that you just can't get anywhere else.
About the Author
Henry Hook is the author of Henry Hook's Guess the Celebrity Crosswords and Henry Hook Trivia Crostics. He contributes all sorts of puzzles to a wide variety of publications. Henry Rathvon is the author of The Random House Guide to Cryptic Crosswords. He hosts an online puzzle forum for The New York Times. Ravthon also wrote a play, Trapezium, that was performed at the Orlando-UCF Shakespeare Festival. Emily Cox is a coauthor of The Atlantic Monthly Cryptic Crosswords and The Random House Guide to Cryptic Crosswords, the definitive book on the subject. She creates the acrostics for The New York Times, and her puzzles appear in a variety of books, magazines, and newspapers.
Advertisement