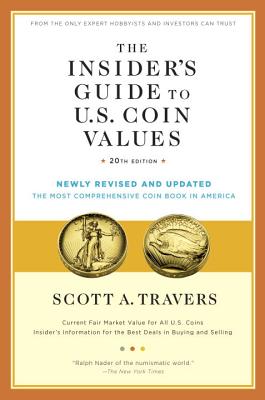 The Insider's Guide to U.S. Coin Values (Paperback)
House of Collectibles, 9780375723704, 277pp.
Publication Date: November 13, 2012
* Individual store prices may vary.
or
Not Currently Available for Direct Purchase
Description
Winner of the 2013 Best Coin Investment Book of the Year from the Numismatic Literary Guild.

America's #1 consumer advocate for coin hobbyists, collectors, and investors is Scott Travers. Now he has created a guide that provides comprehensive facts on all U.S. coins and a complete listing of the fair market value for your coins today. Plus, he teaches you how to play the lucrative global game of coin collecting by including:
•  A breakdown of valuable varieties of coins that are hiding in pocket change
•  Secrets of how to grade, trade and preserve coins like the experts
•  Current trends in the coin market and how to capitalize with your own collection
•  The most complete and current price guide on the market today!


"If you're buying just one price guide to see what your coins are worth, this is the obvious choice." –COINage magazine
About the Author
Scott A. Travers, one of the most influential coin dealers in the world, served as Vice President (1997-1999) of the congressionally chartered, non-profit American Numismatic Association. His name is familiar to readers everywhere as the author of seven bestselling books on coins, including "The Coin Collector's Survival Manual," "How to Make Money in Coins Right Now," "Travers' Rare Coin Investment Strategy," "The Investor's Guide to Coin Trading," "Scott Travers' Top 88 Coins to Buy & Sell," "The Insider's Guide to U.S. Coin Values," and" One-Minute Coin Expert," which has been called "the most important book of its kind ever written." His expert opinions are often sought by such publications as "The Wall Street Journal" and "Business Week," and he served as a coin valuation consultant to the Federal Trade Commission. A frequent guest on radio and television programs, Scott Travers has won awards and gained an impressive reputation as a forceful consumer advocate for the coin-buying public. He is president of Scott Travers Rare Coin Galleries, LLC, in New York.
Advertisement