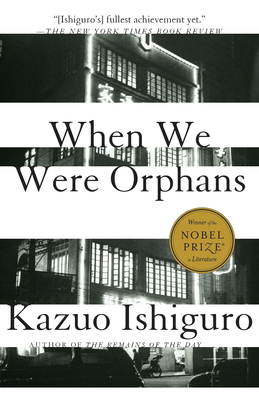 When We Were Orphans (Paperback)
Vintage, 9780375724404, 352pp.
Publication Date: October 30, 2001
Description
From the Booker Prize-winning, bestselling author of Remains of the Day comes this stunning work of soaring imagination. Born in early-twentieth-century Shanghai, Banks was orphaned at the age of nine after the separate disappearances of his parents. Now, more than twenty years later, he is a celebrated figure in London society; yet the investigative expertise that has garnered him fame has done little to illuminate the circumstances of his parents' alleged kidnappings. Banks travels to the seething, labyrinthine city of his memory in hopes of solving the mystery of his own, painful past, only to find that war is ravaging Shanghai beyond recognition-and that his own recollections are proving as difficult to trust as the people around him. Masterful, suspenseful and psychologically acute, When We Were Orphans offers a profound meditation on the shifting quality of memory, and the possibility of avenging one's past.
About the Author
Kazuo Ishiguro was born in Nagasaki, Japan, in 1954 and moved to Britain at the age of five. He is the author of four previous novels, including The Remains of the Day, an international bestseller that won the Booker Prize and was adapted into an award-winning film. Ishiguro's work has been translated into twenty-eight languages. In 1995, he received an Order of the British Empire for service to literature, and in 1998 was named a Chevalier de l'Ordre des Arts et des Lettres by the French government. He lives in London with his wife and daughter.
Praise For When We Were Orphans…
"Swift, compelling, moving, irresistible."
--The Baltimore Sun

"Goes much further than even The Remains of the Day in its examination of the roles we've had handed to us... His fullest achievement yet."
--The New York Times Book Review

"You seldom read a novel that so convinces you it is extending the possibilities of fiction."
--Sunday Times (London)

"Poignant... When We Were Orphans may well be Ishiguro's most capacious book so far."
--Pico Iyer, The New York Review of Books

"[A]n imaginative work of surpassing intelligence and taste."
--Joyce Carol Oates, Times Literary Supplement

"With his characteristic finesse, Mr. Ishiguro infuses what seems like a classic adventure story with an ineffable tinge of strangeness."
--The Wall Street Journal

Advertisement