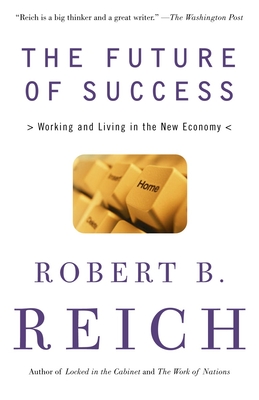 The Future of Success: Working and Living in the New Economy (Paperback)
Working and Living in the New Economy
Vintage, 9780375725128, 304pp.
Publication Date: January 8, 2002
Description
If you think it's getting harder to both make a living and make a life, economist and former secretary of labor Robert Reich agrees with you. Americans may be earning more than ever before, but we re paying a steep price: we re working longer, seeing our families less, and our communities are fragmenting.
With the clarity and insight that are his hallmarks, Reich delineates what success has come to mean in our time. He demonstrates that although we have more choices as consumers, and investors, the choices themselves are undermining the rest of our lives. It is getting harder for people to be confident of what they will be earning next year, or even next month. At the same time, our society is splitting into socially stratified enclaves--the wealthier walled off and gated, the poorer isolated and ignored. Although the trends he discusses are powerful, they are not irreversible, and Reich makes provocative suggestions for how we might create a more balanced society and more satisfying lives. Some of his ideas may surprise you; all should spark a healthy and essential national debate.

About the Author
Robert B. Reich is University Professor at Brandeis University and Maurice B. Hexter Professor of Social and Economic Policy at Brandeis's Heller Graduate School. He has served in three national administrations, most recently as Secretary of Labor under President Bill Clinton. He is cofounder and national editor of The American Prospect, and his writings have appeared in The New Yorker, The Atlantic Monthly, the New York Times, the Washington Post, and the Wall Street Journal. This is his eighth book. He lives in Cambridge, Massachusetts, with his wife, Clare Dalton. They have two sons.
Praise For The Future of Success: Working and Living in the New Economy…
"Reich is a big thinker and a great writer." –The Washington Post

"A valuable work. . . . Reich has a talent for mastering economic and social complexities and making them easy for the layperson to grasp." –The Wall Street Journal

"A well-researched and documented analysis of the present state of working life in America." –The Plain Dealer

"Reich writes in ways unusual for an economist; he is self-effacing, witty and more interested in exploring the world's complexities than in uncovering unvarying laws." – The New York Times Book Review


Advertisement