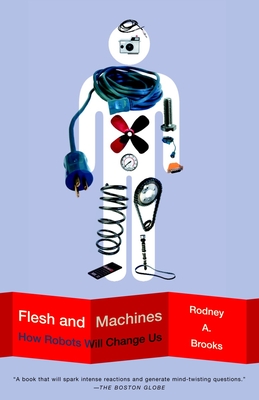 Flesh and Machines: How Robots Will Change Us (Paperback)
How Robots Will Change Us
Vintage Books USA, 9780375725272, 272pp.
Publication Date: February 4, 2003
Description
Are we really on the brink of having robots to mop our floors, do our dishes, mow our lawns, and clean our windows? And are researchers that close to creating robots that can think, feel, repair themselves, and even reproduce? Rodney A. Brooks, director of the MIT Artificial Intelligence Laboratory believes we are. In this lucid and accessible book, Brooks vividly depicts the history of robots and explores the ever-changing relationships between humans and their technological brethren, speculating on the growing role that robots will play in our existence. Knowing the moral battle likely to ensue, he posits a clear philosophical argument as to why we should not fear that change. What results is a fascinating book that offers a deeper understanding of who we are and how we can control what we will become.
About the Author
Rodney A. Brooks is Fujitsu Professor of Computer Science and Engineering at MIT and director of the Artificial Intelligence Laboratory. He is also chairman and chief technological officer of iRobot Corporation. He is a founding fellow of the American Association for Artificial Intelligence (AAA) and a fellow of the American Association for the Advancement of Science (AAAS). The author of several books and a contributor to many journals, he was one of the subjects of Errol Morris's 1997 documentary, Fast, Cheap, and Out of Control. Brooks was born in Australia and now lives in suburban Boston.
Praise For Flesh and Machines: How Robots Will Change Us…
"A book that will spark intense reactions and generate mind-twisting questions." -The Boston Globe

"A stimulating book written by one of the major players in the field–perhaps the major player. . . . Offers surprisingly deep glimpses into what it is to be human." -The New York Times Book Review

"Brooks . . . lucidly explores his life with robots....Flesh and Machines ranges far and wide, but remains unified by the author's passion."–Wired

"Readers don't have to share Brooks' vision of the future to love reading his book, the imaginative work of a skilled yet genial provocateur."–Pittsburgh Post-Gazette

"Brooks [is] the irrepressible Pied Piper of robotics." –Los Angeles Times

"A considered and thought-provoking work. . . . This is the best kind of popular science book: The ideas are clear and accessible but not dumbed down."–American Scientist

"A man-as-machine thesis that is presented accessibly and humanely." –Booklist
Advertisement