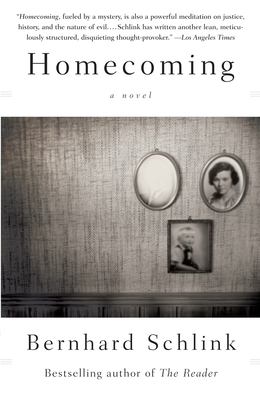 Homecoming (Paperback)
Vintage Books USA, 9780375725579, 260pp.
Publication Date: January 6, 2009
Description
Growing up with his mother in Germany, Peter Debauer knows little about his father, an apparent victim of the Second World War. But when he stumbles upon a few pages from a long-lost novel, Peter embarks on a quest that leads him across Europe to the United States, chasing fragments of a story within a story and a master of disguises who may or may not exist. Homecoming is a tale of fathers and sons, men and women, war and peace. It reveals the humanity that survives the trauma of war and the ongoing possibility for redemption.
About the Author
Bernhard Schlink was born in Germany. He is the author of the internationally best-selling novel The Reader, which was an Oprah's Book Club selection. He lives in Berlin and New York.
Praise For Homecoming…
"Homecoming, fueled by a mystery, is also a powerful meditation on justice, history, and the nature of evil. . . . Schlink has written another lean, meticulously structured, disquieting thought-provoker." —Los Angeles Times "A beguilingly oblique novel. . . . Despite its intricate, maze-like progression, Homecoming has surprising narrative thrust." —The Economist"Sensitive and disturbing. . . . The reader's mind opens to the story like a plant unfurling its leaves to the sun." —The New York Times Book Review"Plot twists and surprises and sometimes outright lies complicate the book's multilayered homecoming theme. . . . Schlink has woven a homecoming tale as fascinating as Homer's Odyssey, its inspiration." —Seattle Times
Advertisement