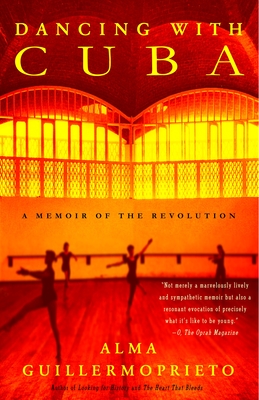 Dancing with Cuba (Paperback)
A Memoir of the Revolution
Vintage, 9780375725814, 304pp.
Publication Date: February 8, 2005
* Individual store prices may vary.
Description
In 1970 a young dancer named Alma Guillermoprieto left New York to take a job teaching at Cuba's National School of Dance. For six months, she worked in mirrorless studios (it was considered more revolutionary); her poorly trained but ardent students worked without them but dreamt of greatness. Yet in the midst of chronic shortages and revolutionary upheaval, Guillermoprieto found in Cuba a people whose sense of purpose touched her forever.

In this electrifying memoir, Guillermoprieto–now an award-winning journalist and arguably one of our finest writers on Latin America– resurrects a time when dancers and revolutionaries seemed to occupy the same historical stage and even a floor exercise could be a profoundly political act. Exuberant and elegiac, tender and unsparing, Dancing with Cuba is a triumph of memory and feeling.
About the Author
Alma Guillermoprieto writes frequently for The New Yorker (where the first chapter of this book appeared in 2002) and The New York Review of Books. She is the author of Looking for History, The Heart That Bleeds, and Samba, and she was named a MacArthur Fellow in 1995. Raised in Mexico and the United States, she now makes her home in Mexico City.
Praise For Dancing with Cuba: A Memoir of the Revolution…
"Not merely a marvelously lively and sympathetic memoir but also a resonant evocation of precisely what it's like to be young." --O, The Oprah Magazine

"There is no clear course to the past but only a kind of dead reckoning. It is such reckoning that gives authenticity to Ms. Guillermoprieto's uneasy and fascinating account, and more than 30 years after the events, a pulsing sense of discovery." --The New York Times

"One of the most astute and eloquent chroniclers of contemporary Latin America. . . . Guillermoprieto's description of everyday life under the revolution is intimate and poignant, and also tough-minded and shrewd." --San Francisco Chronicle

"Dancing with Cuba is about falling in love with this mythic place or, more precisely, trying to. . . . A sympathetic yet ultimately unsparing account of a personal odyssey that ends not triumphantly but nonetheless extraordinarily." --The Nation

"A pleasure to read, full of humanity, sly humor, curiosity and knowledge." —Katha Pollitt, The New York Times Book Review

"Written with the deftness that has made Guillermoprieto's dispatches in The New Yorker some of the best writing on Latin America, Dancing with Cuba makes a significant contribution to the in-depth understanding of contemporary Cuba." -The Miami Herald

"Few dancers write memoirs, and so the world of dance remains an elegant mystery to many of us… This is a tale, then, of artists and poets, dancers and architects — bewildered, always in conflict, trying to keep alive standards which they knew were essential, but which were also suspect, not to say dangerous." —Doris Lessing, The New York Observer

"An honest memoir filled with the struggles most young people wrestle with: love, identity and idealism." -USA Today

"The memoir's greatest strength is its ability to infect the reader with the feverish, hopeful and heartbreaking sense of the early days of the revolution." —Elle

"As much a pleasure as an astonishment." - Harper's

"Written with dignity and without rhetoric or undue emotion: when this author flays her feelings, it's because she is utterly alive with protest." -Kirkus Reviews

"Guillermoprieto is one of the most perceptive commentators on Latin America, a writer whose political analysis is sensitive to culture and history and punctuated by telling details that illuminate larger dilemmas. This bittersweet remembrance of youthful hopes and disillusionment, of the contrast between the idealism of revolutionary aspirations and the clay feet of day-to-day revolutionaries, is set against the story of six months she spent in Cuba as a dance teacher in 1970…this marvelous book is almost impossible to put down." —Foreign Affairs

"Gracefully told...splendidly rendered into English by Esther Allen." - Los Angeles Times Book Review

"A vivid chronicle." —The Boston Globe

"In exploring her own evolving relationship to art and politics…[Guillermoprieto] proposes a genuinely original take on history. To the traditional discussion of events and ideologies she adds psychology, rhetorical analysis, and, most provocatively, ideas about how one's physical body participates in the experience of cultural identity." —Sarah Kerr, The New York Review of Books

" [A] beautifully written novelistic memoir." San Antonio Express-News

"A compelling look back — from the safe wisdom of middle age — at the role a revolution played in transforming this young dancer into a journalist." —Sacramento News & Review

"An insightful account of a time when the revolution was past its dawn but had not yet descended into cynical political bankruptcy…also a powerful memoir of a sometimes painful journey that 'thoroughly unraveled' its author's life, turning a naïve young artist into a confusedly politicized adult." —The Economist

"Excellent…Guillermoprieto writes so well." —Newsday

"Guillermoprieto brings out the flavor of the time…insightful." —Street Weekly (Miami)

"[Dancing with Cuba] is a loose mix of half-memories, reporting and musings on the place and meaning of art…The mix works for some of the same reasons Guillermoprieto had such difficulty in Cuba — the sophisticated, intelligent singularity of her voice, her insistence on recognizing life's grays and her sly wit." —Associated Press

"A bittersweet page-turner." —Dance Teacher

"[Dancing with Cuba] is elegantly written and captures both the spirit and rhythms of Cuba during a period of dramatic change and political upheaval." —Tucson Citizen (Tuscon, AZ)

"A vivid memoir." —The Wall Street Journal

"In recalling and reconstructing those days, [Guillermoprieto] has given us a convincing portrait of a young woman torn between her sympathy for those in need and her desire to do nothing except her art, between her conviction that the Castroites were trying to do good and her revulsion at their rhetoric, their methods and their very selves." —The
Washington Post Book World