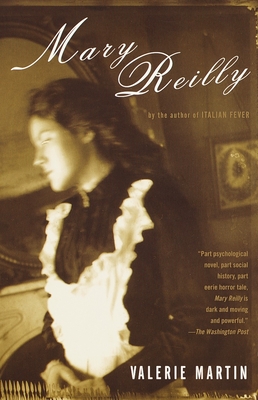 Mary Reilly (Vintage Contemporaries)
Paperback

* Individual store prices may vary.
Other Editions of This Title:
Mass Market Paperback (3/1/1996)
Description
From the acclaimed author of the bestselling Italian Fever and award winning Property, comes a fresh twist on the classic Jekyll and Hyde story, a novel told from the perspective of Mary Reilly, Dr. Jekyll's dutiful and intelligent housemaid.

Faithfully weaving in details from Robert Louis Stevenson's classic, Martin introduces an original and captivating character: Mary is a survivor–scarred but still strong–familiar with evil, yet brimming with devotion and love. As a bond grows between Mary and her tortured employer, she is sent on errands to unsavory districts of London and entrusted with secrets she would rather not know. Unable to confront her hideous suspicions about Dr. Jekyll, Mary ultimately proves the lengths to which she'll go to protect him. Through her astute reflections, we hear the rest of the classic Jekyll and Hyde story, and this familiar tale is made more terrifying than we remember it, more complex than we imagined possible.
Praise For Mary Reilly (Vintage Contemporaries)…
"The generosity with which Mary Reilly is imagined, the elegance of Martin's writing and the depth of her engagement with her title character make it a memorable and absorbing experience." —Chicago Tribune
"Valerie Martin creates memorable characters: the pompous butler…an unctuous landlord…and the utterly convincing Mary, with a housemaid's eye, a servant's rigorous sense of place-and a sufferer's hard won dignity." —Newsweek
"Mary Reilly is an achievement-creativity skating exhilaratingly on thin ice." —The New York Times
"Mary is a remarkable character…. A marvelous performance." —USA Today
"Haunting.... Powerful…. Mary Reilly's voice…casts a spell from the beginning: we turn the pages, furiously compelled, because we must know more about her." —Chicago Sun-Times
"Entrancing and elegant…. A seamless retelling of the Jekyll and Hyde story that is both a compliment and a complement to the original." —The Orlando Sentinel
"Mary Reilly is intensely cinematic, highly dramatic, suspenseful, stirring and entirely absorbing…. Mary Reilly is magnificent." —The Kansas City Star
"Mary Reilly is a virtuoso work, a meticulously crafted, resplendently written story…. Authentic in its abundance of historical detail, it is also unbounded in Martin's imaginative exploration of the psyche of a young girl." —Daily News
Vintage, 9780375725999, 272pp.
Publication Date: April 10, 2001
About the Author
Valerie Martin is the author of ten novels, including The Ghost of the Mary Celeste, The Confessions of Edward Day, Trespass, Mary Reilly, Italian Fever, and Property; three collections of short fiction; and a biography of Saint Francis of Assisi, titled Salvation. She has been awarded grants from the National Endowment for the Arts and the John Simon Guggenheim Fellowship, as well as the Kafka Prize (for Mary Reilly) and Britain's Orange Prize (for Property).
or
Not Currently Available for Direct Purchase