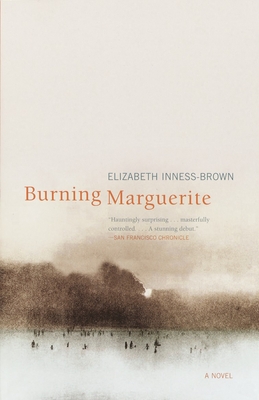 Burning Marguerite (Paperback)
Vintage, 9780375726224, 256pp.
Publication Date: May 13, 2003
* Individual store prices may vary.
or
Not Currently Available for Direct Purchase
Description
One winter morning James Jack Wright finds ninety-four-year-old Marguerite Deo--the woman he has always known as "Tante"--lying dead in the woods outside his cabin, clad only in a flowered nightgown. With this arresting scene, Elizabeth Inness-Brown ushers readers into her mysterious and lyrical narrative, the story of two closely braided lives that forces a reconsideration of our notions of maternity, loyalty, love, and perhaps death itself. As James Jack sets out to fulfill Marguerite's unusual last wishes, the narrative unveils the secrets of their pasts. It arcs from Depression-era New Orleans to a barren New England island at the turn of the century, from an illicit passion and an unforgivable crime to the relationship between a small boy and a tough, reclusive woman who turns out to possess an unsuspected capacity for love.
About the Author
Elizabeth Inness-Brown is the author of two acclaimed collections of short stories, Satin Palms and Here. Raised in the North Country of New York State, she now teaches writing at Saint Michael's College and lives with her husband and young son on South Hero, an island in Lake Champlain, Vermont.
Praise For Burning Marguerite…
"Vivid yet concise, Inness-Brown's language burns away all but the essence of her story." —The New York Times Book Review

"Takes the concept of motherhood . . . into the realm of poetry. . . . Reminiscent of Flannery O'Connor with a touch of Nathaniel Hawthorne." —Philadelphia Inquirer

"Densely-layered . . . dramatic. . . . Inness-Brown possesses an assured touch for conveying the vivid harshness of her setting." —The Miami Herald

"Though written in visual, spare prose, there's nothing simple about this story. . . . Filled with haunting places and beautifully drawn characters, Burning Marguerite is a sterling novel." —The Baltimore Sun

"Hauntingly surprising . . . masterfully controlled. . . . A stunning debut." —San Francisco Chronicle

"[The characters'] stories unfold in a combination of grand sweep and everyday detail. . . and indelibility but reminds us that even everyday life. . . can lead to epic crossroads—and beautifully written novels." —The Chicago Tribune

"This careful interweaving of past and present, of death and of the life that preceded it, is masterfully conceived and structured." —The Trenton Times

"Elizabeth Inness-Brown proves herself already a master of description." —Time Out New York

"To read this book is to feel the quiet at its center, like a cathedral, empty but filled with the wound of silence. At its heart is an elegant and understated examination of the obligations and endurance of love." —The Times-Picayune

"The world is filled with tales of a mother's love, but few as wistful or wise as Burning Marguerite. Elizabeth Inness-Brown knows exactly what magic brims in a mother's—and, yes, a son's—heart." —Chris Bohjalian, author of The Buffalo Soldier and Midwives

"[Inness-Brown's] descriptive writing is rich and evocative. The reader might actually shiver at her descriptions of winter in Vermont and perspire at those of summer in New Orleans." —The Roanoke Times

"Finishing Burning Marguerite was a bittersweet experience. I look forward to future novels by this intriguing and very talented writer." —The Anniston Star

"Burning Marguerite is a novel of hidden things, a book with sweeping range, intense feeling, delicate detail. It catches you in the web of its first pages and will not let go. It is utterly wonderful." —Frederick Barthelme
Advertisement