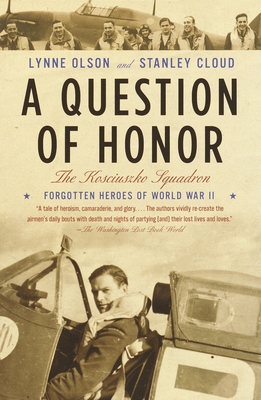 A Question of Honor
The Kosciuszko Squadron: Forgotten Heroes of World War II
Paperback

* Individual store prices may vary.
Description
A Question of Honor is the gripping, little-known story of the refugee Polish pilots who joined the RAF and played an essential role in saving Britain from the Nazis, only to be betrayed by the Allies after the war.

After Poland fell to the Nazis, thousands of Polish pilots, soldiers, and sailors escaped to England. Devoted to liberating their homeland, some would form the RAF's 303 squadron, known as the Kosciuszko Squadron, after the elite unit in which many had flown back home. Their thrilling exploits and fearless flying made them celebrities in Britain, where they were "adopted" by socialites and seduced by countless women, even as they yearned for news from home. During the Battle of Britain, they downed more German aircraft than any other squadron, but in a stunning twist at the war's end, the Allies rewarded their valor by abandoning Poland to Joseph Stalin. This moving, fascinating book uncovers a crucial forgotten chapter in World War II–and Polish–history.
Praise For A Question of Honor: The Kosciuszko Squadron: Forgotten Heroes of World War II…
"Exciting. . . . A tale of heroism, camaraderie and glory. The authors vividly re-create the airmen's daily bouts with death and nights of partying, their lost lives and loves." —The Washington Post Book World

"An impassioned, riveting account of Poland's betrayal by Britain and the United States, which quickly forgot the Poles' heroism in their rush to appease the Soviet Union." —Newsweek

"Exciting and compelling, a fine story too rarely told, a tribute to the Polish fighting spirit, and a well-written war history about a distant but very good neighbor." —Alan Furst
Vintage, 9780375726255, 512pp.
Publication Date: October 12, 2004
About the Author
Lynne Olson and Stanley Cloud are coauthors of The Murrow Boys, a biography of the correspondents whom Edward R. Murrow hired before and during World War II to create CBS News. Olson is the author of Freedom's Daughters: The Unsung Heroines of the Civil Rights Movement from 1830 to 1970. Cloud, a former Washington bureau chief for Time, was also a national political correspondent, White House correspondent, Saigon bureau chief, and Moscow correspondent for Time. Olson was a Moscow correspondent for the Associated Press and White House correspondent for the Baltimore Sun. She and Cloud are married and live in Washington, D.C.