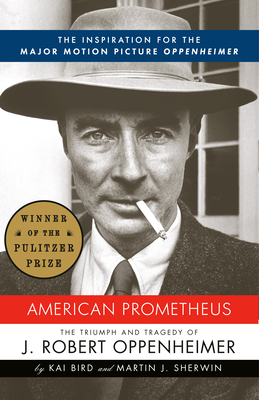 American Prometheus (Paperback)
The Triumph and Tragedy of J. Robert Oppenheimer
Vintage, 9780375726262, 784pp.
Publication Date: April 11, 2006
Other Editions of This Title:
Digital Audiobook (12/31/2005)
Hardcover (4/5/2005)
Compact Disc (7/1/2012)
Compact Disc (2/1/2007)
MP3 CD (2/1/2007)
* Individual store prices may vary.
Description
J. Robert Oppenheimer is one of the iconic figures of the twentieth century, a brilliant physicist who led the effort to build the atomic bomb for his country in a time of war, and who later found himself confronting the moral consequences of scientific progress. In this magisterial, acclaimed biography twenty-five years in the making, Kai Bird and Martin Sherwin capture Oppenheimer's life and times, from his early career to his central role in the Cold War. This is biography and history at its finest, riveting and deeply informative.
About the Author
Kai Bird is the author of The Chairman: John J. McCloy, The Making of the American Establishment and The Color of Truth: McGeorge Bundy and William Bundy, Brothers in Arms. He coedited with Lawrence Lifschultz Hiroshima's Shadow: Writings on the Denial of History and the Smithsonian Controversy. A contributing editor of The Nation, he lives in Washington, D.C., with his wife and son.
Martin J. Sherwin is the Walter S. Dickson Professor of English and American History at Tufts University and author of A World Destroyed: Hiroshima and Its Legacies, which won the Stuart L. Bernath Prize, as well as the American History Book Prize. He and his wife live in Boston and Washington, D.C.
Praise For American Prometheus: The Triumph and Tragedy of J. Robert Oppenheimer…
"The definitive biography. . . . Oppenheimer's life doesn't influence us. It haunts us." –Newsweek"A masterful account of Oppenheimer's rise and fall, set in the context of the turbulent decades of America's own transformation. It is a tour de force." –Los Angeles Times Book Review"A work of voluminous scholarship and lucid insight, unifying its multifaceted portrait with a keen grasp of Oppenheimer's essential nature. . . . It succeeds in deeply fathoming his most damaging, self-contradictory behavior." –The New York Times"There have been numerous books about Oppenheimer but they can't touch this extraordinary book's impressive breadth and scope." –The Miami Herald"The first biography to give full due to Oppenheimer's extraordinary complexity . . . Stands as an Everest among the mountains of books on the bomb project and Oppenheimer, and is an achievement not likely to be surpassed or equaled."–The Boston Globe