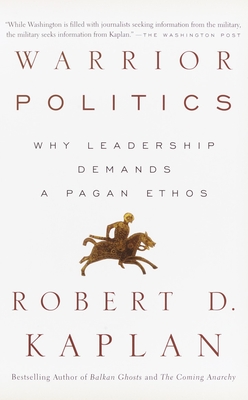 Warrior Politics
Why Leadership Requires a Pagan Ethos
Paperback

* Individual store prices may vary.
Description
In Warrior Politics, the esteemed journalist and analyst Robert D. Kaplan explores the wisdom of the ages for answers for today's leaders. While the modern world may seem more complex and dangerous than ever before, Kaplan writes from a deeper historical perspective to reveal how little things actually change. Indeed, as Kaplan shows us, we can look to history's most influential thinkers, who would have understood and known how to navigate today's dangerous political waters.

Drawing on the timeless work of Sun Tzu, Thucydides, Machiavelli, Hobbes, among others, Kaplan argues that in a world of unstable states and an uncertain future, it is increasingly imperative to wrest from the past what we need to arm ourselves for the road ahead. Wide-ranging and accessible, Warrior Politics is a bracing book with an increasingly important message that challenges readers to see the world as it is, not as they would like it to be.
Praise For Warrior Politics: Why Leadership Requires a Pagan Ethos…
"While Washington is filled with journalists seeking information from the military, the military seeks information from Kaplan." –The Washington Post

"There is much to praise in Kaplan's sober realism, his genuine knowledge of the world's danger zones, and his justified contempt for liberal good intentions when they are not backed by steel and will." –The New York Review of Books

"[A] fascinating intellectual exercise." –Newsweek

"One of the most thought-provoking and profound books that I have recently read. As readable as it is stimulating." –Henry Kissinger

"Kaplan draws on a rich humanist tradition to shatter the illusion of a collective, post-cold war vision of human progress. . . . [He] has become the Ayn Rand of international affairs, saying what few dare to say." –New Statesman

"Kaplan skillfully captures the relevance of classical political theory for today's leaders, whether they manage crises in the boardroom or the Oval Office." –William S. Cohen, former secretary of defense

"An insightful, timely book. Citing philosophers from Sun-Tzu to Machiavelli, the author shows the value of ancient insights into human nature in formulating international policy." –Booklist

"Warrior Politics should be read by every citizen deeply concerned about America's role in the world." –Newt Gingrich

"The reason I have come to admire Bob Kaplan's little book . . . is its refusal to apologize for its analogies. This is so refreshing. . . . What Kaplan is saying–and what Hobbes and Machiavelli and some of the Founders said–was that such realism is in fact more moral than idealism. Idealism in state craft is based on an abdication of responsibility — to govern the world as it is." –Andrew Sullivan

"[Kaplan's] comparison of the United States in 2001 with the complacent Roman Empire will be a wake-up call for many readers. His philosophical polemic is well worth reading in these anxious times." –Library Journal

"I read Warrior Politics with fascination. Kaplan makes a persuasive case that the insights of major philosophers are relevant to modern security problems. This book will be read by scholars, but it should also be read by those responsible today for making the decisions that affect our national security." –William J. Perry, former secretary of defense
Vintage, 9780375726279, 224pp.
Publication Date: January 7, 2003
About the Author
Robert D. Kaplan is the bestselling author of twenty books on foreign affairs and travel translated into many languages, including Adriatic, The Good American, The Revenge of Geography, Asia's Cauldron, Monsoon, The Coming Anarchy, and Balkan Ghosts. He holds the Robert Strausz-Hupé Chair in Geopolitics at the Foreign Policy Research Institute. For three decades he reported on foreign affairs for The Atlantic. He was a member of the Pentagon's Defense Policy Board and the U.S. Navy's Executive Panel. Foreign Policy magazine twice named him one of the world's "Top 100 Global Thinkers."
or
Not Currently Available for Direct Purchase