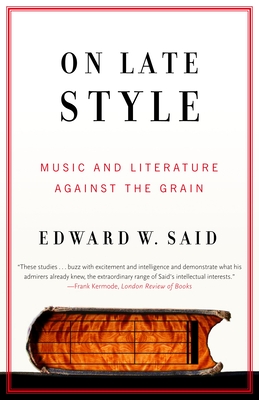 On Late Style: Music and Literature Against the Grain (Paperback)
Music and Literature Against the Grain
Vintage Books USA, 9780375726330, 176pp.
Publication Date: April 10, 2007
Description
In this fascinating book, Edward Said looks at the creative contradictions that often mark the late works of literary and musical artists. Said shows how the approaching death of an artist can make its way into his work, examining essays, poems, novels, films, and operas by such artists as Beethoven, Genet, Mozart, Lampedusa, Euripides, Cavafy, and Mann, among others. He uncovers the conflicts and complexity that often distinguish artistic lateness, resulting in works that stood in direct contrast to what was popular at the time and were forerunners of what was to come in each artist's discipline-works of true genius. Eloquent and impassioned, brilliantly reasoned and revelatory, On Late Style is Edward Said's own great last work.
About the Author
Edward W. Said was University Professor of English and Comparative Literature at Columbia University. He was the author of more than twenty books, including Orientalism, which was nominated for the National Book Critics Circle Award; Culture and Imperialism; Representations of the Intellectual; The End of the Peace Process; Power, Politics, and Culture; and Out of Place: A Memoir. His books have been published in thirty-six languages. He died in 2003.
Praise For On Late Style: Music and Literature Against the Grain…
"These studies . . . buzz with excitement and intelligence and demonstrate what his admirers already knew, the extraordinary range of Said's intellectual interests." —Frank Kermode, London Review of Books"Brilliant. . . . This gracefully unquiet, probing and wise book [is] Said's own elegiac masterpiece of late style." —Financial Times"Fascinating and stimulating. . . . Said, as with the best writers, is someone you like to spend time with. . . . This book is a fine monument to his life and work." —The New Statesman"His critic's eye remain[s] original and compelling." —Wilson Quarterly
Advertisement