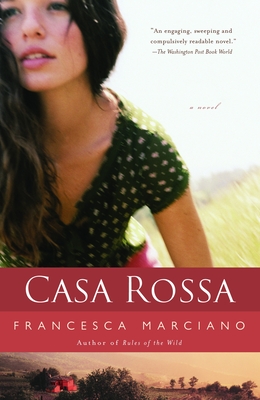 Casa Rossa (Paperback)
Vintage, 9780375726378, 352pp.
Publication Date: October 14, 2003
Description
A crumbling farmhouse in Puglia, Casa Rossa was bought by Alina Strada's grandfather at a time when no one else wanted it. Now busy preparing it for sale, Alina endeavors to recover the memories it still harbors in particular of three women whose passions indelibly shaped her family's dark past. There's grandmother Renee, whose love of novelty won over everything else. Alina's mother, Alba, whose marriage to a screenwriter inspired both great art and unbearable sadness. Finally Isabella, Alina's sister, whose fervent politics drove her to ever-escalating betrayals. Moving from Jazz Age Paris to 1950s Rome to modern-day New York, but returning always to the uncompromising beauty of Italy's south, Casa Rossa is a spellbinding story of how loves and losses, secrets and lies, resonate across the generations.
About the Author
Francesca Marciano is also the author of Rules of the Wild. She lives in Rome.
Praise For Casa Rossa…
"An engaging, sweeping and compulsively readable novel." —The Washington Post Book World

"An enthralling tour de force …The gritty details of modern Italian life make Casa Rossa impossible to put down." —USA Today

"[Marciano] amps up the glamour and mystery in her sophisticated novel about Italian sisters who clash over family, politics and men. Think La Dolce Vita turned topical tale." —Glamour

"Elegant, eloquent prose . . . Casa Rossa is notable for its rueful understanding of the volatile mix of emotions that binds us to those we love." —Los Angeles Times

"[A]ffecting, beautifully told. . . [R]ich and resonant. . .Marciano is a natural-born storyteller."—The New York Times

"Beautifully told . . . rich and resonant. . . . Marciano is a natural-born storyteller." —The New York Times Book Review

"A family epic [that] revolves around three generations of extraordinary women… Fans of Marciano's first novel will once again embrace her sensual descriptions of exotic lands." —San Francisco Chronicle

"Marciano brings Southern Italy as boldly to life as she did Kenya in Rules of the Wild. . . . imperturbably weav[ing] intricate complications together into a glamorous, romantic whole." —Publishers Weekly

"Lyrical. . . . Romantic. . . . The story of a family whose secrets collide with history." —Desert News

"Marciano. . .casts a sharp eye on the society that surrounds the family of the Casa Rossa. Her Italy is full of lies. . .But the search for truth takes courage, and the lesson learned in her novel is that the violence of the anni di piombo achieved nothing." —The Economist

"Lyrical. . . . spiced with those special Italian flavors: beauty, melodrama, and–of course–murder. . . . Thank heaven for life's little pleasures." —Daily Candy NYC

"Marciano effectively intermingles family secrets, Italian history, and the loves and lives of her characters. A good read." —Library Journal

"Tells the mesmerizing story of three generations of a twentieth century Italian family . . . with . . . passion and fervor. . . . Enthralling." —Italian Tribune

"We are made to reevaluate history and to look at the human cost both of ideals and failures in ideals. . .The period [Marciano] describes may have been given a stylish apotheosis by the early Fellini, but it can survive now only in elegies which, like this one, are really indictments." —Times Literary Supplement
Advertisement