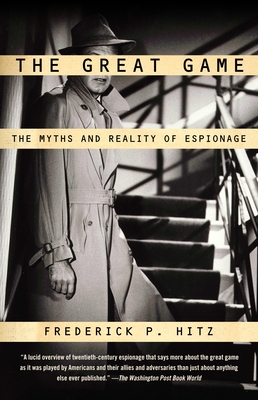 The Great Game (Paperback)
The Myths and Reality of Espionage
Vintage, 9780375726385, 224pp.
Publication Date: May 10, 2005
* Individual store prices may vary.
Description
In this riveting insider's account, a former inspector general of the CIA compares actual espionage cases and practices with classic and popular spy fiction, showing that the real world of espionage is nearly always stranger and more complicated than even the best spy fiction.Exploring everything from tradecraft and recruitment to bureaucracy and betrayal, The Great Game contrasts fictional spies created by such authors as John Le Carr?, Tom Clancy and Joseph Conrad with their real-life counterparts from Kim Philby to Aldrich Ames. Drawing on his thirty year career with the CIA, Frederick P. Hitz shows that even the most imaginative authors fail to capture the profound human dilemmas raised by real-life cases. Engaging and insightful, The Great Game shines a fascinating light on the veiled history of intelligence.
About the Author
Frederick P. Hitz was born in Washington, D.C., and graduated from Princeton and Harvard Law School. He entered the Central Intelligence Agency as an operations officer in 1967, and Aldrich Ames was in his training class. After 1973 he served at the Departments of State, Defense, and Energy, leading to a second stint with the CIA from 1978 to 1982 as legislative counsel to the director of Central Intelligence and deputy chief of operations for Europe. In 1990, Hitz was appointed the first stautory inspector general of the CIA by President Bush and served in this post until May 1998, when he retired to begin a teaching career at the Woodrow Wilson School of Princeton University. Hitz has received medals for distinguished service in the Department of Defense and the Defense Intelligence Agency's Distinguished Medal. He lives in northern Virginia.
Praise For The Great Game: The Myths and Reality of Espionage…
"A lucid overview of 20th-century espionage that says more about the great game as it was played by Americans and their allies and adversaries than just about anything else ever published." –The Washington Post Book World"Absorbing . . . A hit for the avid spy-fiction reader. . . . A can't miss for Clancy fans." --Detroit Free Press "Hitz . . . shows [that] nothing is certain in the shadow world of spies and betrayals, not even the truth." --The New York Times "Hitz is at his best when he reveals juicy details of intelligence lapses. . . . He has genuine insight into the inner workings of intelligence bureaucracy." --San Francisco Chronicle"A good read and good fun and quite informative. . . . By weaving together reality and image, the author provides insights into espionage unlikely to be obtained elsewhere." –James Schlesinger, former secretary of defense and former director of the Central Intelligence Agency"A delightful little jewel of a book. . . . A steady stream of insdier's reflections, including details regarding American traitors, makes this not only a smooth and entertaining read, but a handy reference work." –The Roanoke Times "Hitz is a strong researcher who can turn a nifty phrase. . . . Enjoyable and useful." –St. Louis Post-Dispatch "Informative and entertaining." –Publishers Weekly "Perfect for spy-story fans who crave an insider's assessment of the reality behind the enetertainment." –Booklist "A slender but rich–and quite entertaining–introduction to the shadowy world of spy vs. spy. . . . A perfect companion for fans of John le Carr?." –Kirkus Reviews (starred)