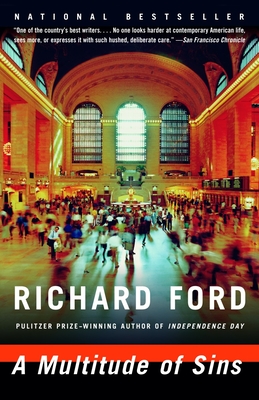 A Multitude of Sins (Vintage Contemporaries)
Paperback

* Individual store prices may vary.
Other Editions of This Title:
Audio cassette (2/7/2002)
Description
One of the most celebrated and unflinching chroniclers of modern life now explores, in this masterful collection of short stories, the grand theme of intimacy, love, and their failures.

With remarkable insight and candor, Richard Ford examines liaisons in and out and to the sides of marriage. An illicit visit to the Grand Canyon reveals a vastness even more profound. A couple weekending in Maine try to recapture the ardor that has disappeared from their life together. And on a spring evening, a young wife tells her husband of her affair with the host of the dinner party they're about to join. The rigorous intensity Ford brings to these vivid, unforgettable dramas marks this as his most powerfully arresting book to date–confirming the judgment of the New York Times Book Review that "nobody now writing looks more like an American classic."
Praise For A Multitude of Sins (Vintage Contemporaries)…
"One of the country's best writers. . . . No one looks harder at contemporary American life, sees more, or expresses it with such hushed, deliberate care." –San Francisco Chronicle

"Haunting. . . . In each of these stories . . . there is something as delicate as the atmosphere in a Henry James tale. . . . There is also the spirit of something ineffable . . . a yearning for the world to be better than we expect. Chekhov and Cheever mastered such miracles from everyday dramas. Ford is among their company." –The Atlanta Journal-Constitution

"Wrenching, intense, overflowing with compassion, A Multitude Of Sins leads us into the restless ambiguities of the heart." –Dan Cryer, Newsday

"Encompass[es] the comedy and pathos and wit of our dislocated times. [and] reminds us how powerful short stories can be." —Los Angeles Times

"Scorching. . . . These stories are wry, stark, and heartbreaking–and, with the quiet moral urgency at their core, make up Ford's most stinging collection to date." –Elle

"Robust. . . .This is vigorous writing, unfolding with the leisurely confidence that is the practiced craftsman's best illusion." —The Boston Globe

"Very powerful. . . . Ford has a fine sense of place, be it southern, western, or foreign." —The New York Review of Books

"Reasserts claims that in the hands of a lesser author would appear quaintly old-fashioned: that our lives have real importance, that there is such a thing as sin, that all of our actions…have consequences. It is a testament to Ford's gifts as a writer that in A Multitude of Sins this previously well-traveled ethical terrain feels shockingly new." –The New Leader

"Elegant, pristine, precise . . . these stories are indisputable proof that Ford is a contemporary master of the short story." –Esquire

"[Ford gives] a scope to private life that puts him in company with the master realists–think of Chekhov's short fiction or the best work of F. Scott Fitzgerald." –Minneapolis Star-Tribune
Vintage, 9780375726569, 304pp.
Publication Date: February 4, 2003
About the Author
The author of five novels and two collections of stories, Richard Ford was awarded the Pulitzer Prize and the PEN/Faulkner Award for Independence Day, the first book to win both prizes. In 2001 he received the PEN/Malamud Award for excellence in short fiction.