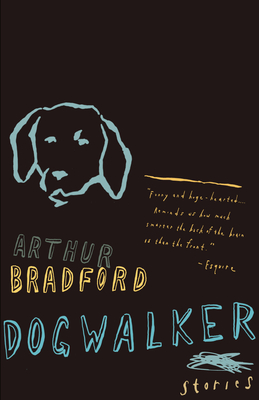 Dogwalker
Stories (Vintage Contemporaries)
Paperback

* Individual store prices may vary.
Description
Tender and satiric, hilarious and humane, Dogwalker plunks readers down in a land of misfits and the circumstantially strange–where one young man buys drugs from a dealer who locks his customers in a closet, while another lands a cat-faced circus freak for a roommate, and yet another must choose between his pregnant wife and the ten-pound slug he's convinced will bring him a fortune. And throughout these stories moves a divinely inspired collection of dogs: three-legged, no-legged, dogs that sing, that talk, and that give birth to humans. Brilliant, perplexing, and moving, this is a daring debut that strolls along society's fringes and unearths strange beauty among its misfits
Praise For Dogwalker: Stories (Vintage Contemporaries)…
"Funny and huge-hearted. . . . Reminds us how much smarter the back of the brain is than the front." –Esquire

"The most outlandish and energetic writer I can think of." –David Sedaris

"[Bradford's] desire to talk about the heart in a way that's not navel-gazing, but rather earnest and real, burns through. Dogwalker soars. . . ." –San Francisco Chronicle

"Anyone who's ever wondered at the weirdness of the world will be grateful for these offerings." —Entertainment Weekly

"Bradford conjures weird modern-Gothic worlds that obey the carnival logic of dreams. His stories are stealthily tender and strangely moving." –Bookforum

Vintage, 9780375726699, 176pp.
Publication Date: August 27, 2002
About the Author
Arthur Bradford's fiction has appeared in McSweeney's, Esquire, and The O. Henry Awards. He is also the creator and director of How's Your News?, a traveling news show produced by the denizens of Camp Jabberwocky, the oldest camp for adults with disabilities in the country.
or
Not Currently Available for Direct Purchase