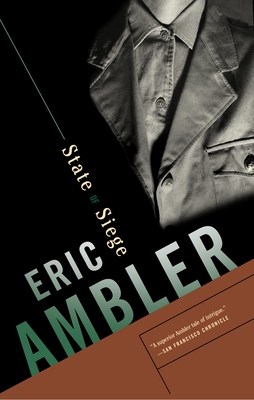 State of Siege (Paperback)
Vintage Crime/Black Lizard, 9780375726774, 256pp.
Publication Date: December 2, 2003
Description
All in all Steve Fraser had enjoyed his three-year stint in the former Dutch Southeast Asian colony of Sunda, and he'd been well compensated. But now he was looking forward to a last weekend in the capital before heading home. But Sunda was newly independent, and not entirely stable. An opposition faction with fundamentalist Islamic leanings was set on overthrowing the provisional government. And instead of enjoying a sybaritic weekend with the Eurasian beauty Rosalie, Fraser finds himself trapped with her by a fanatical group who've taken over the country's radio station and made their headquarters in his friend Jebb's apartment. As the government launches a counterattack, the couple's survival depends on their ability to dodge bullets and the shifting loyalties of the coup's lieutenants.
About the Author
Eric Ambler is often said to have invented the modern suspense novel. Beginning in 1937, he wrote a series of novels that were touted for their realism, in which he introduced ordinary protagonists who are thrust into political intrigue they are ill prepared to deal with. In the process he paved the way for such writers as John Le Carre, Len Deighton, and Robert Ludlum. He was awarded four Gold Daggers and a Diamond Dagger from The Crime Writers Association, named a Grand Master by the Mystery Writers Association, and was made an Officer of the Order of the British Empire by Queen Elizabeth. In addition to his novels, Ambler wrote a number of screenplays, including Rebecca, which he collaborated on with his wife, Joan Harrison. Eric Ambler died in 1998.
Praise For State of Siege…
"A superior Ambler tale of intrigue." --San Francisco Chronicle

"As good as Ambler's very best." --The Observer

"A sophisticated , assured novel of third world politics where lives, as well as ideas, are armed and ideology creates a dangerous terrain." -The Times

"All the elements that Ambler has dveloped to such an art are here." --Chicago Tribune

Advertisement