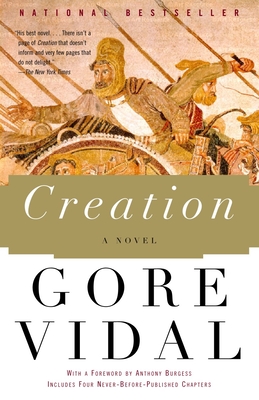 Creation (Paperback)
A Novel (Vintage International)
Vintage, 9780375727054, 592pp.
Publication Date: August 27, 2002
* Individual store prices may vary.
Description
A sweeping novel of politics, war, philosophy, and adventure–in a restored edition, featuring never-before-published material from Gore Vidal's original manuscript–Creation offers a captivating grand tour of the ancient world.
Cyrus Spitama, grandson of the prophet Zoroaster and lifelong friend of Xerxes, spent most of his life as Persian ambassador for the great king Darius. He traveled to India, where he discussed nirvana with Buddha, and to the warring states of Cathay, where he learned of Tao from Master Li and fished on the riverbank with Confucius. Now blind and aged in Athens–the Athens of Pericles, Sophocles, Thucydides, Herodotus, and Socrates–Cyrus recounts his days as he strives to resolve the fundamental questions that have guided his life's journeys: how the universe was created, and why evil was created with good. In revisiting the fifth century b.c.–one of the most spectacular periods in history–Gore Vidal illuminates the ideas that have shaped civilizations for millennia.

About the Author
Gore Vidal was born in 1925 at the United States Military Academy at West Point. His first novel, Williwaw, written when he was nineteen years old and serving in the Army, appeared in the spring of 1946. Since then he has written twenty-three novels, five plays, many screenplays, short stories, well over two hundred essays, and a memoir.
Praise For Creation: A Novel (Vintage International)…
"An incredibly detailed and convincing picture of the ancient world." –Anthony Burgess

"Brilliantly realized. . . . Fertile, vivid, and ingenious. . . . [A] surging river of a book." –Mary Renault, The New York Review of Books

"His best novel. . . . There isn't a page of Creation that doesn't inform and very few pages that do not delight" –The New York Times

"Highly literate, stylish, entertaining and provocative." –The Wall Street Journal