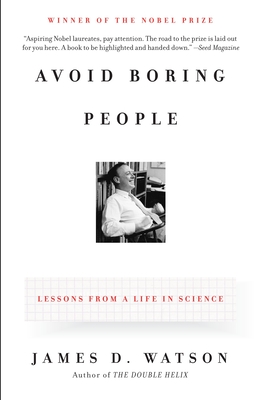 Avoid Boring People: Lessons from a Life in Science (Paperback)
Lessons from a Life in Science
Vintage Books USA, 9780375727146, 347pp.
Publication Date: May 4, 2010
Description
From Nobel Prize-winning scientist James D. Watson, a living legend for his work unlocking the structure of DNA, comes this candid and entertaining memoir, filled with practical advice for those starting out their academic careers.
In Avoid Boring People, Watson lays down a life's wisdom for getting ahead in a competitive world. Witty and uncompromisingly honest, he shares his thoughts on how young scientists should choose the projects that will shape their careers, the supreme importance of collegiality, and dealing with competitors within the same institution. It's an irreverent romp through Watson's colorful career and an indispensable guide to anyone interested in nurturing the life of the mind.
About the Author
James D. Watson was director of Cold Spring Harbor Laboratory in New York from 1968 to 1993 and is now its chancellor emeritus. He was the first director of the National Center for Human Genome Research of the National Institutes of Health from 1989 to 1992. A member of the National Academy of Sciences and the Royal Society, he has received the Copley Medal of the Royal Society and is a Knight of the British Empire (KBE). He has also received the Presidential Medal of Freedom, the National Medal of Science, and, with Francis Crick and Maurice Wilkins, the Nobel Prize in Physiology or Medicine in 1962.
Praise For Avoid Boring People: Lessons from a Life in Science…
"Aspiring Nobel laureates, pay attention. The road to the prize is laid out for you here. A book to be highlighted and handed down."
—Seed Magazine

"Insightful, useful and on target about science, competition, leadership, teaching and academic success. . . . Watson remains one of the most fascinating scientists of our time, as iconic in some respects as is the double helix."
—Nature

"Entertaining. . . . Watson passes on what he can to young scientists coming up and to the rest of us as well."
—Los Angeles Times
 
"Watson is both a scientific genius and a larger-than-life personality. . . . If you want to learn how science gets done in the real world . . . Watson makes for a wonderful guide."
—The Boston Globe

"Vintage Watson: brash, bumptious, brilliant—and never boring."
—Kirkus

"Watson proves as engaging as ever."
—Booklist

"Entertaining and historically revealing."
—Publishers Weekly
Advertisement