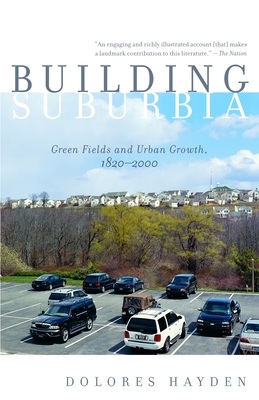 Building Suburbia: Green Fields and Urban Growth, 1820-2000 (Paperback)
Green Fields and Urban Growth, 1820-2000
Vintage, 9780375727214, 336pp.
Publication Date: November 9, 2004
Description
A lively and provocative history of the contested landscapes where the majority of Americans now live.
From rustic cottages reached by steamboat to big box stores at the exit ramps of eight-lane highways, Dolores Hayden defines seven eras of suburban development since 1820. An urban historian and architect, she portrays housewives and politicians as well as designers and builders making the decisions that have generated America's diverse suburbs. Residents have sought home, nature, and community in suburbia. Developers have cherished different dreams, seeking profit from economies of scale and increased suburban densities, while lobbying local and federal government to reduce the risk of real estate speculation. Encompassing environmental controversies as well as the complexities of race, gender, and class, Hayden's fascinating account will forever alter how we think about the communities we build and inhabit.
About the Author
Dolores Hayden, urban historian and poet, is professor of architecture, urbanism, and American studies at Yale. She is the author of several books on the American landscape, including The Power of Place: Urban Landscapes as Public History, Building Suburbia, and A Field Guide to Sprawl. A former president of the Urban History Association, Hayden is the recipient of a Radcliffe Graduate Medal, an American Library Association Notable Book Award, two awards for Excellence in Design Research from the National Endowment for the Arts, and a Guggenheim Fellowship, among other honors. She is also the author of two poetry collections, American Yard and Nymph, Dun, and Spinner.
Praise For Building Suburbia: Green Fields and Urban Growth, 1820-2000…
"Building Suburbia will become the standard work on the suburban landscape in the United States." –Ann Forsyth, author of Constructing Suburbs

"Provocative. . . . Well worth reading." –Detroit Free Press

"Important. . . . More than a necessary read. . . . Inviting and lucid. . . . Often surprising. . . . [Hayden] shows us that it was not inevitable that our space turned out quite this way." –Adrian Nicole LeBlanc, Newsweek.com

"Hayden tours us through the familiar landscape of American suburbia and, with great verve, makes it more foreign–much more diverse, complex, and important." –Lizabeth Cohen, author of A Consumers' Republic

"A lively and informative overview of the American mania for suburban living. . . . Fascinating." –Audubon Naturalist News

"Compelling and beautifully written. . . . It reads like a novel and at the same time offers an insightful social and political history of the rise of the suburbs in the United States. Hayden redefines the American Dream and critiques the rise of segregated housing and the isolated communities characteristic of the suburban landscape. There is no other book quite like this one because of its accessibility and breadth of scholarship." –Setha M. Low, author of Behind the Gates: Life, Security, and the Pursuit of Happiness in Fortress America

"Readable and revealing. . . . Insightful reading." –Cape Cod Times

"Wonderful–a great combination of human reaction and scholarly insight." –Virginia McAlester, author of A Field Guide to American Houses

"A rich and rewarding book with new and original material and surprising insights. . . . Beautiful and accessible writing . . . fascinating historical narratives. . . . Unlike most commentators, Hayden goes beyond analysis to propose solutions. . . . A welcome and significant addition." –Constructs

"Dolores Hayden shows us, for the first time, the remarkable diversity of suburban environments that Americans have produced over two centuries. Lucid, original, and abundantly illustrated, Building Suburbia is that delightful rarity: a scholarly book with a critical perspective and wide appeal." –Richard Harris, author of Unplanned Suburbs: Toronto's American Tragedy, 1900—1950

"A fascinating book, as well as an important one." –Tulsa World

"Dolores Hayden is a unique urban pathfinder. She hunts down the relationships among popular aspirations, big urban players, and the everyday experience of domestic life. In this book she traces the history of our suburban metropolises, guiding the reader through seven easily recognized on-the-street patterns. The end of the history is now, when the government and private corporations anxiously push to maintain our cities of consumption. And yes, she has found a way leading from this dead end." –Sam Bass Warner, Jr., author of Streetcar Suburbs

"An erudite and entertaining exploration of how the idea and ideal of suburbia arose in the 19th century and came to dominate the 20th." –Courier-Post (New Jersey)

"Building Suburbia embraces the human desires that underlie two centuries of American suburban landscapes, even as it explains the myriad problems that ensued. It is only with this complex understanding that we, like Hayden herself, can imagine better patterns of suburban development, more equitable, sustainable, congenial, and beautiful." –Gwendolyn Wright, author of Building the Dream: A Social History of Housing in America

Advertisement