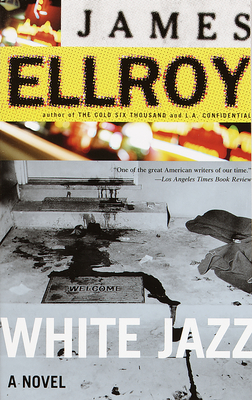 White Jazz (Paperback)
Vintage, 9780375727368, 368pp.
Publication Date: April 24, 2001
Other Editions of This Title:
Digital Audiobook (6/4/2007)
Digital Audiobook (3/12/2007)
Mass Market Paperback (9/1/1993)
Paperback (6/1/1997)
Paperback (6/1/2011)
Paperback (2/1/1994)
* Individual store prices may vary.
Description
The internationally acclaimed author of the L.A. Quartet and The Underworld USA Trilogy, James Ellroy, presents another literary noir masterpiece of historical paranoia.

Los Angeles, 1958. Killings, beatings, bribes, shakedowns--it's standard procedure for Lieutenant Dave Klein, LAPD. He's a slumlord, a bagman, an enforcer--a power in his own small corner of hell. Then the Feds announce a full-out investigation into local police corruption, and everything goes haywire.

Klein's been hung out as bait, "a bad cop to draw the heat," and the heat's coming from all sides: from local politicians, from LAPD brass, from racketeers and drug kingpins--all of them hell-bent on keeping their own secrets hidden. For Klein, "forty-two and going on dead," it's dues time.

Klein tells his own story--his voice clipped, sharp, often as brutal as the events he's describing--taking us with him on a journey through a world shaped by monstrous ambition, avarice, and perversion. It's a world he created, but now he'll do anything to get out of it alive.

Fierce, riveting, and honed to a razor edge, White Jazz is crime fiction at its most shattering.
About the Author
James Ellroy was born in Los Angeles in 1948. He is the author of the L.A. Quartet: The Black Dahlia, The Big Nowhere, L.A. Confidential, and White Jazz, and the Underworld U.S.A. Trilogy: American Tabloid, The Cold Six Thousand, and Blood's A Rover. These seven novels have won numerous honors and were international best sellers. He is also the author of two collections, Crime Wave and Destination: Morgue! and two memoirs My Dark Places and The Hilliker Curse.  Ellroy currently lives in Denver, Colorado.

www.jamesellroy.net
Praise For White Jazz…
"One of the great American writers of our time." --Los Angeles Times Book Review

"White Jazz makes previous detective fiction read like Dr. Seuss." --San Francisco Examiner

"Riffling, rolling, reeling. . . . Ellroy's best." --The Denver Post

"Riveting. . . . Impossible to put down. . . . An author who breaks all the rules. He's a kamikaze pilot on a collision course with hell. The pen moves madly across the page. . . . A book that is one long scream of rage and emptiness and longing." --The News and Observer
Book Videos