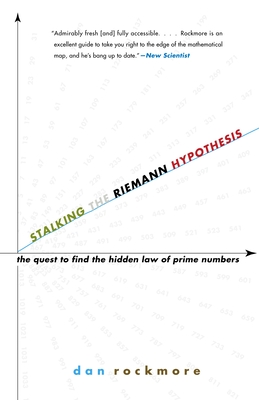 Stalking the Riemann Hypothesis: The Quest to Find the Hidden Law of Prime Numbers (Paperback)
The Quest to Find the Hidden Law of Prime Numbers
Vintage Books USA, 9780375727726, 292pp.
Publication Date: May 9, 2006
Description
For 150 years the Riemann hypothesis has been the holy grail of mathematics. Now, at a moment when mathematicians are finally moving in on a proof, Dartmouth professor Dan Rockmore tells the riveting history of the hunt for a solution.In 1859 German professor Bernhard Riemann postulated a law capable of describing with an amazing degree of accuracy the occurrence of the prime numbers. Rockmore takes us all the way from Euclid to the mysteries of quantum chaos to show how the Riemann hypothesis lies at the very heart of some of the most cutting-edge research going on today in physics and mathematics.
About the Author
Dan Rockmore is a professor of mathematics and computer science at Darmouth College. He lives in New Hampshire with his wife, son, and golden retriever.
Praise For Stalking the Riemann Hypothesis: The Quest to Find the Hidden Law of Prime Numbers…
"Admirably fresh [and] fully accessible. . . . Rockmore is an excellent guide to take you right to the edge of the mathematical map, and he's bang up to date." —New Scientist

"A terrific read. . . . Like a fast-paced detective story. . . . With crystalline clarity and a refreshing sense of fun, Dan Rockmore . . . takes us on a guided tour of the deepest mystery in mathematics." —Steven Strogatz, author of Sync

"Remarkable and exciting. . . . The sheer beauty of the writing, the appealing historical perspective, and the drama of the intellectual hunt make you think about the deep nature of the universe as you never have." —Michael S. Gazzaniga, Director of the The SAGE Center for the Study of the Mind at UC Santa Barbara
Advertisement