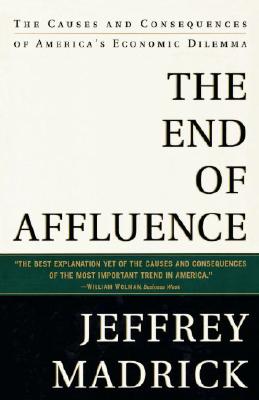 The End of Affluence: The Causes and Consequences of America's Economic Dilemma (Paperback)
The Causes and Consequences of America's Economic Dilemma
Random House, 9780375750335, 240pp.
Publication Date: September 23, 1997
Description
This book, reminiscent of the bestsellers Politics of Rich and Poor and Day of Reckoning, tells the real truth about America's long term economic decline--what caused it, what it has done to Americans, and what Americans should do about it. As the stock market soars, inflation recedes, and the federal budget deficit shrinks, the earnings of the typical American worker are still lower, adjusted for inflation, than they were a decade ago. Family income is only beginning to regain its lost ground, a higher proportion of Americans are living in poverty today than ten years ago, and the distribution of income remains the most unequal in the advanced industrial world. In this brilliantly clear, groundbreaking book, Jeffrey Madrick explains why prosperity has eluded so many Americans and why, since the early 1970s, our rate of economic growth has declined so dramatically. Madrick cuts through the illusions and hypocrisy that accompany the political rhetoric of both parties and shows that before we can fix the economy, we have to recognize what went wrong. Praise for The End of Affluence "The most straightforward account of the disappearing of the American Dream."--Commentary "In the tradition of the economists Robert Heilbroner and John Kenneth Galbraith, Mr. Madrick makes sophisticated economics easy reading."--The New York Times "One of the best books on what's happening in the American economy to be published in years."--Richard Nelson, Columbia University "For the layman looking to make sense of the 1990s economy, this is a short, accessible primer that clears away a lot of the underbrush and highlights the central truth about the American economy."--The Washington Post "Without question, The End of Affluence has begun to make a real impact on the future course of U.S. economic policy."--Richard Gephardt, Democratic leader, U.S. House of Representatives
About the Author
An Emmy Award-winning economics reporter for NBC from 1985 to 1993, Jeffrey Madrick was finance editor of Business Week and a columnist for Money and is now editor of Challenge and a frequent contributor to The New York Review of Books. The End of Affluence was selected by The New York Times Book Review as a Notable Book of the Year.
Advertisement