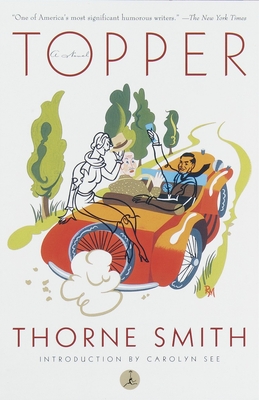 Topper (Paperback)
Modern Library, 9780375753053, 240pp.
Publication Date: February 2, 1999
Other Editions of This Title:
Digital Audiobook (12/31/2005)
Paperback (5/20/2018)
Paperback (5/8/2019)
Paperback (4/22/2019)
Paperback (4/13/2019)
Paperback (12/20/2018)
Paperback (12/15/2018)
Paperback (11/18/2018)
Paperback (9/10/2018)
Paperback (7/15/2015)
Paperback (3/18/2019)
Paperback (11/18/2018)
Paperback, Spanish (8/1/2015)
Compact Disc (4/1/2001)
Paperback (9/13/2018)
Paperback, Large Print (9/13/2018)
Paperback (4/13/2019)
Compact Disc (7/1/2013)
MP3 CD (4/1/2001)
* Individual store prices may vary.
Description
"[Thorne Smith] created the modern American ghost.   A ghost with style and wit. A ghost that haunts us still."
--The New York Times

Thorne Smith is a master of urbane wit and sophisticated repartee. Topper, his best-known work, is the hilarious, ribald comedy on which the hit television show and movie (starring Cary Grant) were based.

It all begins when Cosmo Topper, a law-abiding, mild-mannered bank manager, decides to buy a secondhand car, only to find it haunted by the ghosts of its previous owners--the reckless, feckless, frivolous couple who met their untimely demise when the car careened into an oak tree. The ghosts, George and Marion Kerby, make it their mission to rescue Topper from the drab "summer of suburban Sundays" that is his life--and they commence a series of madcap adventures that leave Topper, and anyone else who crosses their path, in a whirlwind of discomfiture and delight.

As enchanting today as it was when first published in 1926, Topper has set the standard in American pop culture for such mischievous apparitions as those seen in The Ghost and Mrs. Muir, Heaven Can Wait, Beetlejuice, and Bewitched.
About the Author
Thorne Smith was the author of nine novels, including The Night Life of the Gods, Topper Takes a Trip, and The Stray Lamb. He was born in Annapolis, Maryland, in 1892 and died in 1934. Carolyn See is the author of nine books. Her latest novel is The Handyman.