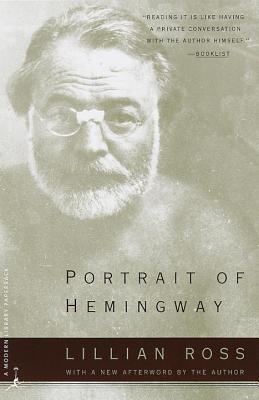 Portrait of Hemingway (Paperback)
Modern Library, 9780375754388, 112pp.
Publication Date: July 6, 1999
* Individual store prices may vary.
Description
On May 13, 1950, Lillian Ross's first portrait of Ernest Hemingway was published in The New Yorker. It was an account of two days Hemingway spent in New York in 1949 on his way from Havana to Europe. This candid and affectionate profile was tremendously controversial at the time, to the great surprise of its author. Booklist said, "The piece immediately conveys to the reader the kind of man Hemingway was--hard-hitting, warm, and exuberantly alive." It remains the classic eyewitness account of the legendary writer, and it is reproduced here with the preface Lillian Ross prepared for an edition of Portrait in 1961.
        
Ernest Hemingway was born on July 21, 1899, and to celebrate the centenary of this event, Ms. Ross has written a second portrait of Hemingway for The New Yorker, detailing the friendship the two struck up after the completion of the first piece. It is included here in an amended form. Together, these two works establish the definitive sketch of one of America's greatest writers.
About the Author
Lillian Ross was born in Syracuse, New York. She worked as a staff writer at The New Yorker from 1945 to 1987 and returned to the magazine in 1993. Ms. Ross is the author of twelve books, including Picture (available as a Modern Library hardcover), Talk Stories, Takes, Reporting, Vertical and Horizontal, and Here but Not Here.
Praise For Portrait of Hemingway…
"Lillian Ross is the mistress of selectively listening and viewing, of capturing the one moment that entirely illumines the scene, of fastening on the one quote that tells all. She is a brilliant interpreter of what she hears and observes."
--Irving Wallace
or
Not Currently Available for Direct Purchase