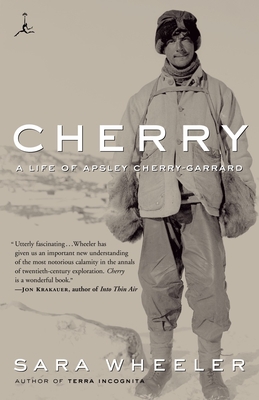 Cherry: A Life of Apsley Cherry-Garrard (Paperback)
A Life of Apsley Cherry-Garrard
Modern Library, 9780375754548, 384pp.
Publication Date: April 1, 2003
Description
Apsley Cherry-Garrard was one of the youngest members of Robert Falcon Scott's legendary expedition to Antarctica, the last man sent out to meet Captain Scott and his men in February 1912, when they were expected to return victorious any day from the South Pole. He embarked on his own epic journey into the Antarctic winter to collect eggs of the Emperor penguin. It was dark all the time, his teeth shattered, and the tent blew away in the cold. "But we kept our tempers," he wrote, "even with God."

After serving in the First World War, with zealous encouragement from his neighbor George Bernard Shaw, Cherry wrote the undisputed masterpiece of polar literature, The Worst Journey in the World. But as the years progressed, he faced a terrible struggle against depression and despair. Sara Wheeler's Cherry is the first biography of this great hero of Antarctic exploration, written with unrestricted access to his papers and with the full cooperation of his family.
About the Author
Sara Wheeler spent seven months in Antarctica in 1995 as writer in residence with the U.S. Polar Program. She is the author of Terra Incognita: Travels in Antarctica, an international bestseller chosen by Beryl Bainbridge as one of the best books of the year, and Travels in a Thin Country, a finalist for the Thomas Cook Award, both available from the Modern Library. "From the Hardcover edition."
Praise For Cherry: A Life of Apsley Cherry-Garrard…
"Utterly fascinating...Wheeler has given us an important new understanding of the most notorious calamity in the annals of twentieth-century exploration. Cherry is a wonderful book." —Jon Krakauer, author of Into Thin Air

"Beautifully written...Wheeler's vocabulary to evoke this luminous and cruel continent...appears limitless." —Caroline Alexander, The New York Times Book Review

"Spellbinding...Cherry is an exquisite work." —The Washington Post

"Accomplishes what only the best biographies can....She is able to satisfy the reader's curiosity of how it must have felt to be on that doomed expedition." —The Times (London)

"With this wonderful biography Sara Wheeler has now vaulted into the front rank of modern British writers....Cherry is so much more than a story of one remarkable man. It is, among other things, an exploration of the mind, a tour through the notions of national identity and pride, and a celebration of the tensile strength of the human spirit." —Simon Winchester
Advertisement