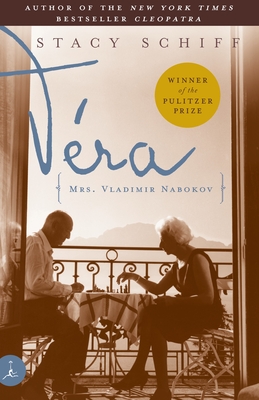 Vera (Paperback)
Mrs. Vladimir Nabokov (Modern Library)
Modern Library, 9780375755347, 480pp.
Publication Date: April 4, 2000
Description
NEW YORK TIMES BESTSELLER

Winner of the 2000 Pulitzer Prize for biography and hailed by critics as both "monumental" (The Boston Globe) and "utterly romantic" (New York magazine), Stacy Schiff's Vera (Mrs. Vladimir Nabokov) brings to shimmering life one of the greatest literary love stories of our time. Vladimir Nabokov--the emigre author of Lolita; Pale Fire; and Speak, Memory--wrote his books first for himself, second for his wife, Vera, and third for no one at all. "Without my wife," he once noted, "I wouldn't have written a single novel." Set in prewar Europe and postwar America, spanning much of the century, the story of the Nabokovs' fifty-two-year marriage reads as vividly as a novel. Vera, both beautiful and brilliant, is its outsized heroine--a woman who loves as deeply and intelligently as did the great romantic heroines of Austen and Tolstoy. Stacy Schiff's Vera is a triumph of the biographical form.
About the Author
Stacy Schiff's Saint Exupery was a finalist for the 1995 Pulitzer Prize. She is the recipient of fellowships from the Guggenheim Foundation and the National Endowment for the Humanities. She lives in New York City.
Praise For Vera: Mrs. Vladimir Nabokov (Modern Library)…
"        A sensitive rendering of one of the century's great love stories."--Mirabella

"        I am truly in love with this book. Schiff's sentences are magnificent, deceptively complex, full of insight and fact and distance and wry humor, so that every page is a kind of mini feast."--Anita Shreve

"        An absorbing story, illumined by Schiff's flair for the succinct insight."
        --The New York Times Book Review

"        Véra is an astonishingly fine book--a tale told with wit and elegance, a tale that succeeds in encompassing both the intimacy of a marriage and the sweep of history. I found it a great pleasure to read. And I'm in awe of Stacy Schiff's talent."--Jonathan Harr
Advertisement