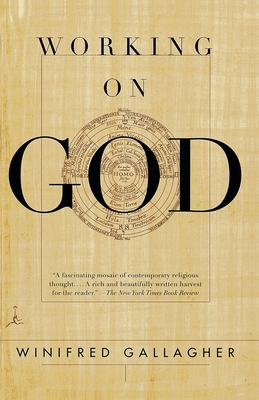 Working on God (Paperback)
Modern Library, 9780375755378, 368pp.
Publication Date: April 18, 2000
Description
Millions of Americans are finding it more and more difficult to apply the traditional demands of organized religion to their lives, and yet a complete absence of spirituality leaves them uneasy. Working on God is a book for and about such intelligent, independent people, who are seeking to reconcile their spiritual yearnings with their skeptical intellects. Winifred Gallagher, a behavioral-science reporter, began her investigation of religion in our postmodern age with research and interviews and soon discovered a vast, quiet revolution under way among ordinary men and women grappling with the sacred. Both Gallagher's brilliant journalistic inquiry and her very personal journey unfold over time spent in a Zen monastery and a cloistered convent, in small-group discussions and healing rituals, in a Conservative synagogue that shares spaces with a Christian church, and in the birthplace of the New Age. Written with humor, empathy, and a rigorous curiosity, Working on God breaks new ground in depicting the broad-based spiritual movement that is transforming many lives.
About the Author
Winifred Gallagher's previous books are Just the Way You Are: How Heredity and Experience Create the Individual, which was a New York Times Notable Book of the Year, and The Power of Place: How Surroundings Shape Our Thoughts, Emotions, and Actions. She has written for many magazines, from The Atlantic Monthly to Rolling Stone. She lives in Manhattan and Long Eddy, New York.
Praise For Working on God…
"A fascinating mosaic of contemporary religious thought.... A rich and beautifully written harvest for the reader."--The New York Times Book Review

"An intimate and revealing pilgrimage into America's restless soul. The result is an honest and sometimes poignant appraisal of a religious
revolution afoot in this country--.An outstanding piece of writing that shows the strength and beauty of America's beating religious heart."--The Boston Globe

"Working on God is one of the greatest spiritual works of this decade, as delightful as it is wise."--Anne Lamott
Advertisement