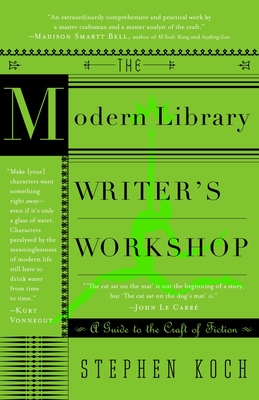 The Modern Library Writer's Workshop
A Guide to the Craft of Fiction
Paperback

* Individual store prices may vary.
Description
"Make [your] characters want something right away—even if it's only a glass of water. Characters paralyzed by the meaninglessness of modern life still have to drink water from time to time." —Kurt Vonnegut

"'The cat sat on the mat' is not the beginning of a story, but 'the cat sat on the dog's mat' is." —John Le Carré

Nothing is more inspiring for a beginning writer than listening to masters of the craft talk about the writing life. But if you can't get Vladimir Nabokov, Virginia Woolf, and Gabriel García Márquez together at the Algonquin, The Modern Library Writer's Workshop gives you the next best thing. Stephen Koch, former chair of Columbia University's graduate creative writing program, presents a unique guide to the craft of fiction. Along with his own lucid observations and commonsense techniques, he weaves together wisdom, advice, and inspiring commentary from some of our greatest writers. Taking you from the moment of inspiration (keep a notebook with you at all times), to writing a first draft (do it quickly! you can always revise later), to figuring out a plot (plot always serves the story, not vice versa), Koch is a benevolent mentor, glad to dispense sound advice when you need it most. The Modern Library Writer's Workshop belongs on every writer's shelf, to be picked up and pored over for those moments when the muse needs a little help finding her way.
Praise For The Modern Library Writer's Workshop: A Guide to the Craft of Fiction…
"An extraordinarily comprehensive and practical work by a master craftsman and a master analyst of the craft." —Madison Smartt Bell, author of All Souls' Rising and Anything Goes

"Stephen Koch was my teacher long ago. Now he is everyone's teacher, indelibly. This is a book not just for the beginning writer but for every writer." —Martha McPhee, author of the National Book Award nominee Gorgeous Lies

"The Modern Library Writer's Workshop is a treasure trove of wisdom, both immensely practical and philosophical, entertaining and thought-provoking. Koch takes us inside the writing process, and it is impossible not to emerge transformed." —Joanna Hershon, author of Swimming
Modern Library, 9780375755583, 272pp.
Publication Date: April 1, 2003
About the Author
Stephen Koch taught the craft of fiction to graduate students for twenty-one years in the writing division of the School of the Arts at Columbia University and to undergraduates for seven years in the Program in Creative Writing at Princeton University. Koch is the author of two enthusiastically acclaimed and widely translated novels, Night Watch and The Bachelor's Bride, and several nonfiction works, including Stargazer: Andy Warhol's World and Double Lives: Stalin, Willi Münzenberg and the Seduction of the Intellectuals. He lives with his wife and daughter in New York City.