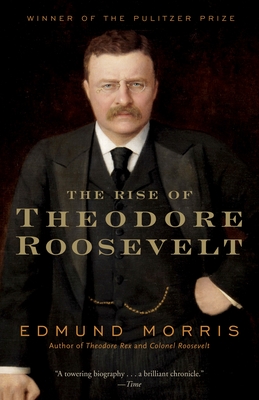 The Rise of Theodore Roosevelt (Paperback)
Random House Trade, 9780375756788, 960pp.
Publication Date: November 20, 2001
Description
Selected by the Modern Library as one of the 100 best nonfiction books of all time Described by the Chicago Tribune as "a classic," The Rise of Theodore Roosevelt stands as one of the greatest biographies of our time. The publication of The Rise of Theodore Roosevelt on September 14th, 2001 marks the 100th anniversary of Theodore Roosevelt becoming president.
About the Author
Edmund Morris was born in Kenya and educated at the Prince of Wales School, Nairobi, and Rhodes University, Grahamstown, South Africa. He worked as an advertising copywriter in London before emigrating to the United States in 1968. His biography The Rise of Theodore Roosevelt won the Pulitzer Prize and the American Book Award in 1980. In 1985 he was appointed Ronald Reagan's authorized biographer. He has written extensively on travel and the arts for such publications as The New Yorker, The New York Times, Harper's, and The Washington Post. The second volume of his Roosevelt biography, Theodore Rex, is currently under way, and will be followed by a third. Edmund Morris lives in New York and Washington, D.C., with his wife and fellow biographer, Sylvia Jukes Morris. From the Hardcover edition.
Praise For The Rise of Theodore Roosevelt…
Praise for the rise of Theodore Roosevelt

"Magnificent . . . a sweeping narrative of the outward man and a shrewd examination of his character. . . . It is one of those rare works that is both definitive for the period it covers and fascinating to read for sheer entertainment. There should be a queue awaiting the next volume."
-W. A. Swanberg, The New York Times Book Review

"Theodore Roosevelt, in this meticulously researched and beautifully written biography, has a claim on being the most interesting man ever to be President of this country."
-Robert Kirsch, Los Angeles Times Book Review

"Spectacles glittering, teeth and temper flashing, high-pitched voice rasping and crackling, Roosevelt surges out of these pages with the force of a physical presence."
-The Atlantic Monthly

"Morris's book is beautifully written as well as thoroughly scholarly-clearly a masterpiece of American biography. . . . Hundreds of thousands will soon be reading this book . . . and will look forward, as I do, to Morris's second volume."
-Kenneth S. Davis, Worcester Sunday Telegram
Advertisement