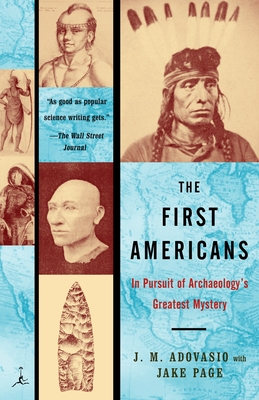 The First Americans (Paperback)
In Pursuit of Archaeology's Greatest Mystery (Modern Library Paperbacks)
Modern Library, 9780375757044, 352pp.
Publication Date: June 17, 2003
* Individual store prices may vary.
Description
J. M. Adovasio has spent the last thirty years at the center of one of our most fiery scientific debates: Who were the first humans in the Americas, and how and when did they get there? At its heart, The First Americans is the story of the revolution in thinking that Adovasio and his fellow archaeologists have brought about, and the firestorm it has ignited. As he writes, "The work of lifetimes has been put at risk, reputations have been damaged, an astounding amount of silliness and even profound stupidity has been taken as serious thought, and always lurking in the background of all the argumentation and gnashing of tenets has been the question of whether the field of archaeology can ever be pursued as a science.
About the Author
J. M. Adovasio, Ph.D., is the founder and director of the Mercyhurst Archaeological Institute. He lives near Erie, Pennsylvania. Jake Page is a former editor of Natural History magazine and science editor of Smithsonian magazine. He lives in Corrales, New Mexico.
Praise For The First Americans: In Pursuit of Archaeology's Greatest Mystery (Modern Library Paperbacks)…
"As good as popular science writing gets." —The Wall Street Journal

"Powerful intrigue. Name-calling and blackballing. Treachery, collusion among archaeologists on an all-out hunt for a holy grail. An Indiana Jones movie? No. The actual search to identify the first humans to inhabit North America. . . . Adovasio, who became an internationally known archaeologist and academic, has created in The First Americans a book that pulses with plot-drive." —Los Angeles Times

"After a quarter-century of rebutting the challenges to his find, Mr. Adovasio has been transformed from a renegade into a leader in the field. Digs in North and South America have only buttressed his onetime pre-Clovis heresy, and Mr. Adovasio conveys a palpable excitement, in this anything-but-tedious archaeology book, at the possibilities of what might yet be discovered." —The Wall Street Journal