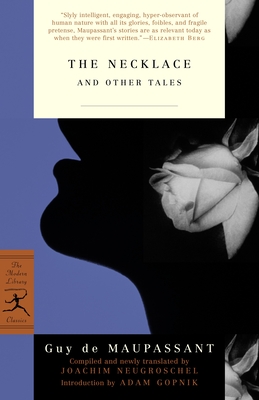 The Necklace and Other Tales (Modern Library Classics) (Paperback)
Modern Library, 9780375757174, 224pp.
Publication Date: November 11, 2003
* Individual store prices may vary.
Description
Includes The Necklace, Butterball, The Tellier House, On the Water, Mademoiselle Fifi, The Mask, The Inn, A Day in the Country, The Hand, The Jewels, The Model, The Entity (The Horla)

These stories—poignant scrutinies of social pretension, wicked tales of lust and love, and harrowing examinations of terror and madness—display the full genius of Guy de Maupassant in an enthralling new translation by Joachim Neugroschel. They reveal Maupassant's remarkable range, his technical perfection, his sexual realism, and his ability to create whole worlds and sum up intricate universes of feeling in a few pages
About the Author
Guy de Maupassant (1850--1893), after serving in the Franco-Prussian War, became a close friend of Flaubert and his circle. He wrote hundreds of short stories as well as novels and verse. In his later years, he suffered from mental illness, and he died in an asylum.

Joachim Neugroschel's translations include definitive renderings of Kafka, Mann, Racine, Molière, Bataille, and many others; his most recent book is No Star Too Beautiful: An Anthology of Yiddish Stories from 1832 to the Present. He has been awarded the French-American Foundation Translation Prize, the Goethe House/PEN Translation Prize (twice), and Guggenheim and NEA grants. He lives in Belle Harbor, New York.

Adam Gopnik is the author of Paris to the Moon (available from Random House Trade Paperbacks).
Praise For The Necklace and Other Tales (Modern Library Classics)…
"Slyly intelligent, engaging, hyper-observant of human nature with all its glories, foibles, and fragile pretense, Maupassant's stories are as relevant today as when they were first written." —Elizabeth Berg