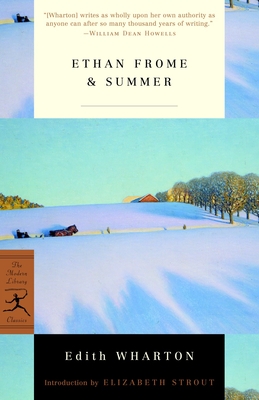 Ethan Frome & Summer (Modern Library Classics) (Paperback)
Modern Library, 9780375757280, 304pp.
Publication Date: May 8, 2001
Other Editions of This Title:
Paperback (1/1/2003)
Paperback (1/1/2009)
* Individual store prices may vary.
Description
A pair of masterly short novels, featuring an introduction by Elizabeth Strout, the Pulitzer Prize–winning author of Anything Is Possible and My Name Is Lucy Barton
 
Thought Edith Wharton is best known for her cutting contemplation of fashionable New York, Ethan Frome and Summer are set in small New England towns, far from Manhattan's beau monde. Together in one volume, these thematically linked short novels display Wharton's characteristic criticism of society's hypocrisy, and her daring exploration of the destructive consequences of sexual appetite. From the wintry setting of Ethan Frome, where a man hounded by community standards is destroyed by the very thing that might bring him happiness, to the florid town of Summer, where a young woman's first romance projects her into a dizzying rite of passage, Wharton captures beautifully the urges and failures of human nature.
 
Praise for Edith Wharton and Ethan Frome
 
"Ethan Frome [is considered] Mrs. Wharton's masterpiece . . . The secret of its greatness is the stark human drama of it; the social crudity and human delicacy intermingled; the defiant, over-riding passion, and the long-drawn-out logic of the paid penalty. It has no contexts, no mitigations; it is plain, raw, first-hand human stuff."—The New York Times
 
"Ethan Frome [has] become part of the American mythology. . . . Wharton's astonishing authority here is to render such pain with purity and economy . . . Truly it is a northern romance, akin even to Wuthering Heights."—Harold Bloom
 
"Traditionally, Henry James has always been placed slightly higher up the slope of Parnassus than Edith Wharton. But now that the prejudice against the female writer is on the wane, they look to be exactly what they are: giants, equals, the tutelary and benign gods of our American literature."—Gore Vidal
About the Author
Edith Wharton was born into a privileged New York family in 1862 and died in France in 1937. In addition to her works as a novelist, most famously The House of Mirth, The Age of Innocence, The Custom of the Country, and Ethan Frome, she also was a renowned interior designer, and was the first woman to win the Pulitzer Prize for Fiction.

Elizabeth Strout is the Pulitzer Prize–winning author of Olive Kitteridge; the #1 New York Times bestseller My Name Is Lucy Barton; The Burgess Boys, a New York Times bestseller; Abide with Me, a national bestseller and Book Sense pick; and Amy and Isabelle, which won the Los Angeles Times Art Seidenbaum Award for First Fiction and the Chicago Tribune Heartland Prize. She has also been a finalist for the PEN/Faulkner Award and the Orange Prize in England. Her short stories have been published in a number of magazines, including The New Yorker and O: The Oprah Magazine. Elizabeth Strout lives in New York City.
Praise For Ethan Frome & Summer (Modern Library Classics)…
"Ethan Frome [is considered] Mrs. Wharton's masterpiece . . . The secret of its greatness is the stark human drama of it; the social crudity and human delicacy intermingled; the defiant, over-riding passion, and the long-drawn-out logic of the paid penalty. It has no contexts, no mitigations; it is plain, raw, first-hand human stuff."—The New York Times
 
"Ethan Frome [has] become part of the American mythology. . . . Wharton's astonishing authority here is to render such pain with purity and economy . . . Truly it is a northern romance, akin even to Wuthering Heights."—Harold Bloom
 
"Traditionally, Henry James has always been placed slightly higher up the slope of Parnassus than Edith Wharton. But now that the prejudice against the female writer is on the wane, they look to be exactly what they are: giants, equals, the tutelary and benign gods of our American literature."—Gore Vidal