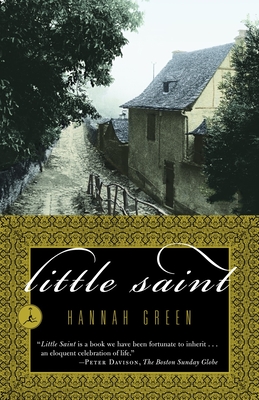 Little Saint (Paperback)
Modern Library, 9780375757471, 300pp.
Publication Date: July 3, 2001
* Individual store prices may vary.
Description
In the early 1970s, Hannah Green and her husband came upon a small village called Conques, curled like a conch shell in the mountains of south-central France. Entranced, she returned to this numinous place again and again, drawn to the story of the little saint whose spirit fills the lives of the people there. Housed in the village's yellow stone basilica sits the gold reliquary of Sainte Foy, who was beheaded in the fourth century for refusing to deny her faith before a Roman consul. Little Saint, a book written in ecstasy, is at once a moving and passionate tribute to Sainte Foy, a lyrical evocation of daily life in Conques, and a vivid chronicle of the author's intensely felt spiritual journey.
About the Author
Hannah Green was born in Ohio, studied writing with Vladimir Nabokov and Wallace Stegner, wrote for The New Yorker, and created one memorable novel that Richard Ellmann described as possessing "the ecstasy that is fiction, is art." The reviewers' comments about that novel, The Dead of the House, have particular pertinence to the book at hand. Of Little Saint it may also be said, as The New York Times said of Hannah Green's novel, "[She] writes under the eye of eter-nity. . . . Time flows in and around the events in her book like some tune that ties all events together." As Stegner said, "This is evocation at the level of magic."

When the novel was reissued recently by Books & Company Turtle Point Press, the Times observed: "Her classic work [has] been received with almost as much critical enthusiasm as its original publication a generation ago." Again, this echoed the judgment in The Washington Post of her writing as "a kind of dream, a protracted prose poem of singular delicacy, filled with generosity, love, and wisdom."
Praise For Little Saint…
Praise for Little Saint

"The majority of novels aren't half as well written as Little Saint... At bottom and essentially, this is a book about Faith."
-- The New York Times Book Review

"Not only a record of religious experience but a rapturous hymn to the saint and her devoted villagers."
-- The New Yorker

"A miracle ... utterly endearing.... Little Saint should endure as long as the bones of Conques."
-- Chicago Tribune

"This strange and beautiful book, with its magical sentences that dance and sing right off the page into the reader's heart, seamlessly weaves the remote past into the living present more than any work I know. Learned, complex, exuberant, and deeply personal, this meditation on the millennia-long life of a French child martyr is a fitting climax to Hannah Green's devoted life of letters."
-- Alix Kates Shulman, author of Drinking the Rain

"In this glorious work, Hannah Green takes us to the ancient village of Conques, into the world of the sacred and the simple everyday. As she and her husband, Jack, are embraced by the villagers, we too feel intimately welcomed. We meet the wonderful ninety-one-and-a-half-year-old (!) Madame Benoit, the artist Kalia, and hear stories of hardship, joy, and faith, even of the mischievous streak of their beloved saint. It is one day; it is Eternity. When Hannah writes about her discovery of Sainte Foy, she writes of rapture, and this fills Little Saint with mysterious life, magnificent light."
-- Fae Myenne Ng, author of Bone