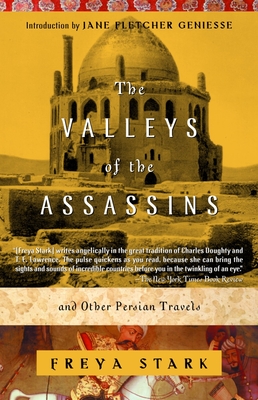 The Valleys of the Assassins (Paperback)
and Other Persian Travels
Modern Library, 9780375757532, 320pp.
Publication Date: July 24, 2001
* Individual store prices may vary.
Description
Hailed as a classic upon its first publication in 1934, The Valleys of the Assassins firmly established Freya Stark as one of her generation's most intrepid explorers. The book chronicles her travels into Luristan, the mountainous terrain nestled between Iraq and present-day Iran, often with only a single guide and on a shoestring budget.

Stark writes engagingly of the nomadic peoples who inhabit the region's valleys and brings to life the stories of the ancient kingdoms of the Middle East, including that of the Lords of Alamut, a band of hashish-eating terrorists whose stronghold in the Elburz Mountains Stark was the first to document for the Royal Geographical Society. Her account is at once a highly readable travel narrative and a richly drawn, sympathetic portrait of a people told from their own compelling point of view.

This edition includes a new Introduction by Jane Fletcher Geniesse, Stark's biographer.
About the Author
Freya Stark, described by The Times of London as "the last of the Romantic Travellers" upon her death in 1993, published during her lifetime more than thirty books about her travels in the Middle East, including The Southern Gates of Arabia.

Jane Fletcher Geniesse is a former reporter for The New York Times and the author of the biography Passionate Nomad: The Life of Freya Stark, a finalist for the 1999 PEN/Martha Albrand Award for First Nonfiction. Her writing has been featured in The Washington Post, New York magazine, and Town & Country. She lives in Washington, D.C.
Praise For The Valleys of the Assassins: and Other Persian Travels…
[Freya Stark] writes angelically in the great tradition of Charles Doughty and T. E. Lawrence. The pulse quickens as you read, because she can bring the sights and sounds of incredible countries before you in the twinkling of an eye."
--The New York Times Book Review

"[The Valleys of the Assassins] remains a wonderful description of a people and a place, altered today by Progress, perhaps, but through [Freya Stark's] eyes still alive with bandits, dervishes, idol worshippers, armed tribesmen, and mountain scenery of great beauty."
--From the Introduction by Jane Fletcher Geniesse

"Stark is constantly alive to her immediate surroundings: indeed, what gives her work its extraordinary depth and power is just this ability to focus past and present... stereoscopically, in a single image."
--Times Literary Supplement [London]