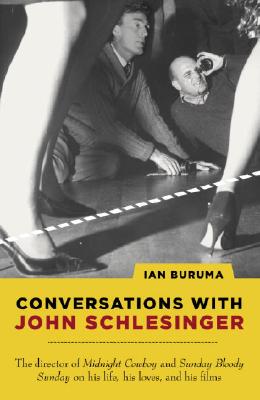 Conversations with John Schlesinger (Paperback)
Random House Trade, 9780375757631, 177pp.
Publication Date: January 10, 2006
* Individual store prices may vary.
or
Not Currently Available for Direct Purchase
Description
"I like the surprise of the curtain going up, revealing what's behind it."
-John Schlesinger The British director John Schlesinger was one of the cinema's most dynamic and influential artists. Now, in Conversations with John Schlesinger, acclaimed writer Ian Buruma, Schlesinger's nephew, reveals the director's private world in a series of in-depth interviews conducted in the later years of the director's life. Here they discuss the impact of Schlesinger's personal life on his art. As his films so readily demonstrate, Schlesinger is a wonderful storyteller, and he serves up fascinating and provocative recollections of growing up in a Jewish family during World War II, his sexual coming-of-age as a gay man in conformist 1950s England, his emergence as an artist in the "Swinging 60s," and the roller-coaster ride of his career as one of the most prominent Hollywood directors of his time. Schlesinger also discusses his artistic philosophy and approach to filmmaking, recounting stories from the sets of his masterpieces, including Midnight Cowboy; Sunday, Bloody Sunday; Marathon Man; and The Day of the Locust. He shares what it was like to direct such stars as Dustin Hoffman, John Voight, Sean Penn, Madonna, and Julie Christie (whom Schlesinger is credited with discovering) and offers his thoughts on the fickle nature of fame and success in Hollywood. Packed with wit and keen insight into the artistic mind, Conversations with John Schlesinger is not just the candid story of a dynamic and eventful life but the true measure of an extraordinary person.
About the Author
Ian Buruma was educated in Holland and Japan. He has spent many years in Asia, which he has written about in God's Dust, A Japanese Mirror, and Behind the Mask. He has also written Playing the Game, The Wages of Guilt, and Anglomania. Buruma is currently a fellow at the Woodrow Wilson Institute for the Humanities in Washington, DC.
Advertisement