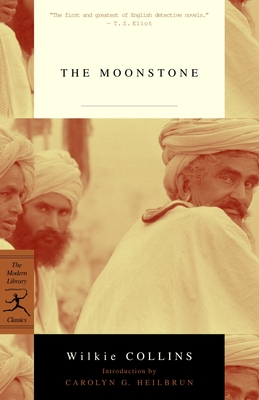 The Moonstone (Modern Library Classics) (Paperback)
Modern Library, 9780375757853, 528pp.
Publication Date: September 11, 2001
Other Editions of This Title:
Digital Audiobook (11/1/2010)
Paperback (11/4/2011)
Paperback (10/8/2015)
Paperback (8/7/2019)
Paperback (10/18/2017)
Paperback (6/9/2017)
Paperback (10/31/2018)
Paperback (3/25/2016)
Paperback (5/17/2019)
Paperback (12/23/2014)
Paperback (6/12/2016)
Paperback (2/15/2015)
Paperback (10/1/2017)
* Individual store prices may vary.
Description
"The Moonstone is a page-turner," writes Carolyn Heilbrun. "It catches one up and unfolds its amazing story through the recountings of its several narrators, all of them enticing and singular." Wilkie Collins's spellbinding tale of romance, theft, and murder inspired a hugely popular genre–the detective mystery. Hinging on the theft of an enormous diamond originally stolen from an Indian shrine, this riveting novel features the innovative Sergeant Cuff, the hilarious house steward Gabriel Betteridge, a lovesick housemaid, and a mysterious band of Indian jugglers.

This Modern Library Paperback Classic is set from the definitive 1871 edition.
About the Author
Carolyn G. Heilbrun, Avalon Foundation Professor in the Humanities Emerita at Columbia University, has authored scholarly classics such as Writing A Woman's Life. As Amanda Cross she has written numerous bestselling Kate Fansler mysteries including Honest Doubt. She lives in New York City.
Praise For The Moonstone (Modern Library Classics)…
"The first and greatest of English detective novels."
--T. S. Eliot