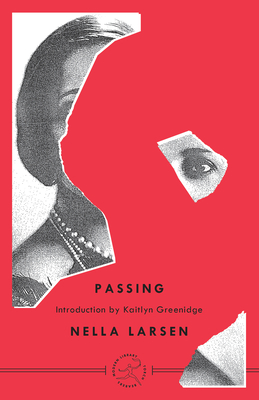 Passing (Paperback)
Modern Library, 9780375758133, 304pp.
Publication Date: May 28, 2002
Description
First published to critical acclaim in 1929, Passing firmly established Nella Larsen's prominence among women writers of the Harlem Renaissance. The Modern Library is proud to present Passing--an electrifying story of two women who cross the color line in 1920s New York--together with a new Introduction by the Obie Award- winning playwright and novelist Ntozake Shange. Irene Redfield, the novel's protagonist, is a woman with an enviable life. She and her husband, Brian, a prominent physician, share a comfortable Harlem town house with their sons. Her work arranging charity balls that gather Harlem's elite creates a sense of purpose and respectability for Irene. But her hold on this world begins to slip the day she encounters Clare Kendry, a childhood friend with whom she had lost touch. Clare--light-skinned, beautiful, and charming--tells Irene how, after her father's death, she left behind the black neighborhood of her adolescence and began passing for white, hiding her true identity from everyone, including her racist husband. As Clare begins inserting herself into Irene's life, Irene is thrown into a panic, terrified of the consequences of Clare's dangerous behavior. And when Clare witnesses the vibrancy and energy of the community she left behind, her burning desire to come back threatens to shatter her careful deception. Brilliantly plotted and elegantly written, Passing offers a gripping psychological portrait of emotional extremity. The New York Times Book Review called Larsen "adroit at tracing the involved processes of a mind divided against itself, that fights between the dictates of reason and desire." The Saturday Review of Literature said, " Larsen] has produced a work so fine, sensitive, and distinguished that it rises above race categories and becomes that rare object, a good novel.
About the Author
Nella Larsen was born in Chicago of interracial parentage on April 13, 1891. She grew up in a white world, primarily among people of German and Scandinavian stock. Her first experience with an all-black world occurred in 1909, when she matriculated at the high school division of Fisk University in Nashville. After studying at the University of Copenhagen for two years, Larsen moved to New York City in 1912 to study nursing at Lincoln Hospital. She would later train as a librarian, earning her certificate from the New York Public Library in 1923. In 1919 she married Elmer Samuel Imes, a prominent black research physicist, who introduced her to Harlem's literary and social elite. Larsen's first novel, Quicksand, was published by Knopf in 1928 and was awarded a Bronze Medal by the Harmon Foundation in recognition of Distinguished Achievement Among Negroes in Literature. Passing was published in 1929. In 1930 Larsen became the first African American woman to be awarded a Guggenheim Fellowship in creative writing. Following a highly publicized divorce in 1933, Larsen gradually withdrew from literary circles and abandoned writing altogether. She spent the last twenty years of her life working as a nurse in Manhattan hospitals. Nella Larsen died in New York City on March 30, 1964.
Praise For Passing…
"[Nella Larsen's novels] open up a whole world of experience and struggle that seemed to me, when I first read them years ago, absolutely absorbing, fascinating, and indispensable."
--Alice Walker

"[Nella Larsen] offers characters so honest and desperate to be whole that we cannot help but champion their humanity."
--From Ntozake Shange's Introduction
Advertisement