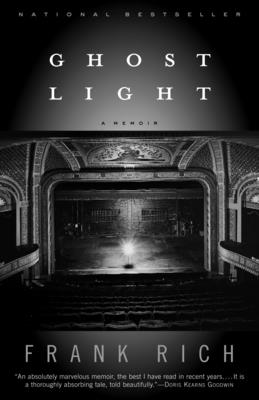 Ghost Light
A Memoir
Paperback

* Individual store prices may vary.
Description
There is a superstition that if an emptied theater is ever left completely dark, a ghost will take up residence. To prevent this, a single "ghost light" is left burning at center stage after the audience and all of the actors and musicians have gone home. Frank Rich's eloquent and moving boyhood memoir reveals how theater itself became a ghost light and a beacon of security for a child finding his way in a tumultuous world.

Rich grew up in the small-townish Washington, D.C., of the 1950s and early '60s, a place where conformity seemed the key to happiness for a young boy who always felt different. When Rich was seven years old, his parents separated--at a time when divorce was still tantamount to scandal--and thereafter he and his younger sister were labeled "children from a broken home." Bouncing from school to school and increasingly lonely, Rich became terrified of the dark and the uncertainty of his future. But there was one thing in his life that made him sublimely happy: the Broadway theater.

Rich's parents were avid theatergoers, and in happier times they would listen to the brand-new recordings of South Pacific, Damn Yankees, and The Pajama Game over and over in their living room. When his mother's remarriage brought about turbulent changes, Rich took refuge in these same records, re-creating the shows in his imagination, scene by scene. He started collecting Playbills, studied fanatically the theater listings in The New York Times and Variety, and cut out ads to create his own miniature marquees. He never imagined that one day he would be the Times's chief theater critic.

Eventually Rich found a second home at Wash-ington's National Theatre, where as a teenager he was a ticket-taker and was introduced not only to the backstage magic he had dreamed of for so long but to a real-life cast of charismatic and eccentric players who would become his mentors and friends. With humor and eloquence, Rich tells the triumphant story of how the aspirations of a stagestruck young boy became a lifeline, propelling him toward the itinerant family of theater, whose romantic denizens welcomed him into the colorful fringes of Broadway during its last glamorous era.

Every once in a while, a grand spectacle comes along that introduces its audiences to characters and scenes that will resound in their memories long after the curtain has gone down. Ghost Light, Frank Rich's beautifully crafted childhood memoir, is just such an event.
Praise For Ghost Light: A Memoir…
"This is an absolutely marvelous memoir, the best I have read in recent years. It recounts, passionately and often painfully, the story of an endearing young child from a broken home who finds refuge and finally redemption in the world of theater. It is a thoroughly absorbing tale, told beautifully and without a hint of self-pity. It is everything a literary memoir ought to be." --Doris Kearns Goodwin

"Ghost Light is not so much a memoir as an exorcism. Frank Rich revisits those defoliated battlegrounds we call family and childhood, picks his way through the still live booby traps of memory, and returns if not at peace then at least with the shards of understanding."
--John Gregory Dunne

"Frank Rich's Ghost Light is a stunning book. He manages to weave memories of childhood and theater into a complicated and deeply touching pattern. For anyone who remembers or still believes that their true lives begin when the curtain goes up, Ghost Light will illuminate their passion. This is a beautifully written, honest book. As in the best of theater, any reader will laugh, cry, and be very moved by the end."
--Wendy Wasserstein

"Ghost Light is a superb memoir--rich in anecdote, dense in theme. It's a spellbinding coming-of-age tale, a meditation on art and youth in the '60s, a horror story of urban family life. Deft, raucous, occasionally terrifying--you applaud Frank Rich for his journey and his brilliant skill in delineating it."
--James Ellroy
Random House Trade Paperbacks, 9780375758249, 352pp.
Publication Date: October 9, 2001
About the Author
Frank Rich served from 1980 to 1993 as the chief drama critic of The New York Times, and is now an op-ed columnist at the paper as well as senior writer for The New York Times Magazine. He lives in New York City with his wife, the writer Alex Witchel.
or
Not Currently Available for Direct Purchase