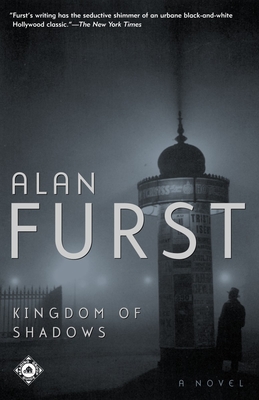 Kingdom of Shadows (Paperback)
A Novel (Night Soldiers)
Random House Trade Paperbacks, 9780375758263, 288pp.
Publication Date: October 9, 2001
Other Editions of This Title:
Other (1/1/2001)
Compact Disc (1/1/2001)
* Individual store prices may vary.
Description
"Kingdom of Shadows must be called a spy novel, but it transcends genre, as did some Graham Greene and Eric Ambler classics."—The Washington Post

Paris, 1938. As Europe edges toward war, Nicholas Morath, an urbane former cavalry officer, spends his days working at the small advertising agency he owns and his nights in the bohemian circles of his Argentine mistress. But Morath has been recruited by his uncle, Count Janos Polanyi, a diplomat in the Hungarian legation, for operations against Hitler's Germany. It is Morath who does Polanyi's clandestine work, moving between the beach cafés of Juan-les-Pins and the forests of Ruthenia, from Czech fortresses in the Sudetenland to the private gardens of the déclassé royalty in Budapest. The web Polanyi spins for Morath is deep and complex and pits him against German intelligence officers, NKVD renegades, and Croat assassins in a shadow war of treachery and uncertain loyalties, a war that Hungary cannot afford to lose. Alan Furst is frequently compared with Eric Ambler, Graham Greene, and John le Carré, but Kingdom of Shadows is distinctive and entirely original. It is Furst at his very best.

Praise for Kingdom of Shadows

"Kingdom of Shadows offers a realm of glamour and peril that are seamlessly intertwined and seem to arise effortlessly from the author's consciousness."—Janet Maslin, The New York Times  

"Subtly spun, sensitive to nuances, generous with contemporary detail and information discreetly conveyed. . . . It's hard to overestimate Kingdom of Shadows."—Eugen Weber, Los Angeles Times

"A triumph: evocative, heartfelt, knowing and witty."—Robert J. Hughes, The Wall Street Journal

"Imagine discovering an unscreened espionage thriller from the late 1930s, a classic black- and- white movie that captures the murky allegiances and moral ambiguity of Europe on the brink of war. . . . Nothing can be like watching Casablanca for the first time, but Furst comes closer than anyone has in years."—Walter Shapiro, Time
About the Author
Alan Furst, widely recognized as the master of the historical spy novel, is the author of A Hero of France, Midnight in Europe, Mission to Paris, and many other bestsellers. Born in New York, he lived for many years in Paris, and now lives on Long Island.
Praise For Kingdom of Shadows: A Novel (Night Soldiers)…
"Compares most favorably with the virtuoso European thrillers of Graham Greene and especially Eric Ambler. . . . This is a major, masterful entertainment."—Bill Bell, New York Daily News

"In my estimation Kingdom of Shadows is a masterpiece. Furst is here writing at the height of his powers, confident of his style, tone and content. And his evocation of that dark time of the soul, before and during the second World War, reverberates in the mind just as that famous Beethoven symphony call- sign echoed in the airwaves over Europe all those years ago."—Vincent Banville, The Irish Times

"[Kingdom of Shadows] is as good as a John le Carré, but with a richer ambience of 'old' Europe. It manages to be as atmospheric as a Brassaï photograph or a Peter Lorre film, yet is unfailingly tense at the same time, never losing sight of the political horror under the period detail."—Phil Baker, The Sunday Times (London)

"What gleams on the surface in Furst's books is his vivid, precise evocation of mood, time, place, a letter- perfect re- creation of the quotidian details of World War II Europe that wraps around us like the rich fug of a wartime railway station."—Johanna McGeary, Time

"Alan Furst's books are addictive—if you like one, you have to read them all."—Mark Horowitz, New York magazine

"With Kingdom of Shadows, Furst has firmly ensconced himself in the upper echelon of writers of literate historical fiction. A Furst novel, as this one shows in spades, is one that should be savored, never hurried. Settle back, immerse yourself in some great writing about a fascinating if terrifying time when the world was on the brink of a terrible darkness."—Tom Walker, The Denver Post

"[A] perfect blend of fact and fantasy. . . . The book is a rare treat."—James Norton, The Christian Science Monitor

"The novel's strengths lie in how it sets its traps; Morath's best efforts to combat the Reich often benefit the side he's fighting against. Our hero is undermined again and again. As Furst details Morath's emotional and political vertigo, Kingdom of Shadows is undeniably intelligent and harrowing."—Charles Wilson, The New York Times Book Review