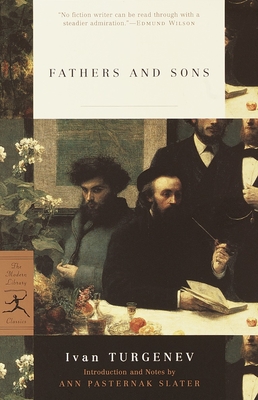 Fathers and Sons (Modern Library Classics) (Paperback)
Modern Library, 9780375758393, 256pp.
Publication Date: November 13, 2001
Description
When Fathers and Sons was first published in Russia, in 1862, it was met with a blaze of controversy about where Turgenev stood in relation to his account of generational misunderstanding. Was he criticizing the worldview of the conservative aesthete, Pavel Kirsanov, and the older generation, or that of the radical, cerebral medical student, Evgenii Bazarov, representing the younger one? The critic Dmitrii Pisarev wrote at the time that the novel "stirs the mind . . . because everything is permeated with the most complete and most touching sincerity." N. N. Strakhov, a close friend of Tolstoy and Dostoevsky, praised its "profound vitality." It is this profound vitality in Turgenev's characters that carry his novel of ideas to its rightful place as a work of art and as one of the classics of Russian Literature.
About the Author
Ann Pasternak Slater is a Fellow of St. Anne's College, Oxford. She is the author of Shakespeare the Director and the translator of the memoirs of Alexander Pasternak, A Vanished Present.
Praise For Fathers and Sons (Modern Library Classics)…
"No fiction writer can be read through with a steadier admiration."
--Edmund Wilson
Advertisement