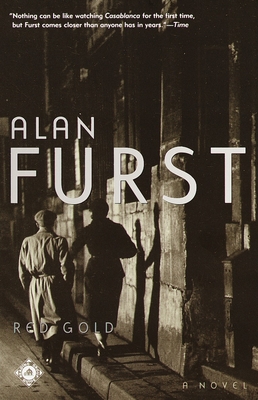 Red Gold (Paperback)
Random House Trade, 9780375758591, 288pp.
Publication Date: January 8, 2002
Description
Autumn 1941: In a shabby hotel off the place Clichy, the course of the war is about to change. German tanks are rolling toward Moscow. Stalin has issued a decree: All partisan operatives are to strike behind enemy lines from Kiev to Brittany. Set in the back streets of Paris and deep in occupied France, Red Gold moves with quiet menace as predators from the dark edge of war arms dealers, lawyers, spies, and assassins emerge from the shadows of the Parisian underworld. In their midst is Jean Casson, once a well-to-do film producer, now a target of the Gestapo living on a few francs a day. As the occupation tightens, Casson is drawn into an ill-fated mission: running guns to combat units of the French Communist Party. Reprisals are brutal. At last the real resistance has begun. Red Gold masterfully re-creates the shadow world of French resistance in the darkest days of World War II.
About the Author
Often compared to Graham Greene and Eric Ambler, Alan Furst is a master of the spy thriller and one of the great war novelists of our time. He is the author of Night Soldiers, Dark Star, The Polish Officer, and The World at Night. He lives in Sag Harbor, New York. From the Hardcover edition.
Praise For Red Gold…
"Nothing can be like watching Casablanca for the first time, but Furst comes closer than anyone has in years."
—Time

"What the espionage novels of John le Carré were for the Cold War, those of Alan Furst have become for the period that might be called 'the Sable Decade.'...Furst may have no peer in his ability to re-create the atmosphere of the nether world of continental Europe during the war years."
—St. Louis Post-Dispatch

"Red Gold transports a reader back to a cowed Paris, darkened by the menacing ambience of World War II."
—William Nicholson, USA Today
Advertisement