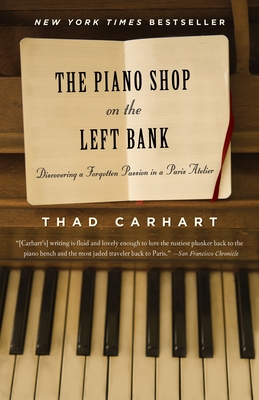 The Piano Shop on the Left Bank
Discovering a Forgotten Passion in a Paris Atelier
Paperback

* Individual store prices may vary.
Other Editions of This Title:
Digital Audiobook (2/8/2016)
Description
Walking his two young children to school every morning, Thad Carhart passes an unassuming little storefront in his Paris neighborhood. Intrigued by its simple sign—Desforges Pianos—he enters, only to have his way barred by the shop's imperious owner. Unable to stifle his curiosity, he finally lands the proper introduction, and a world previously hidden is brought into view. Luc, the atelier's master, proves an indispensable guide to the history and art of the piano. Intertwined with the story of a musical friendship are reflections on how pianos work, their glorious history, and stories of the people who care for them, from amateur pianists to the craftsmen who make the mechanism sing. The Piano Shop on the Left Bank is at once a beguiling portrait of a Paris not found on any map and a tender account of the awakening of a lost childhood passion.

Praise for The Piano Shop on the Left Bank:

"[Carhart's] writing is fluid and lovely enough to lure the rustiest plunker back to the piano bench and the most jaded traveler back to Paris."
–San Francisco Chronicle

"Captivating . . . [Carhart] joins the tiny company of foreigners who have written of the French as verbs. . . . What he tries to capture is not the sight of them, but what they see."
–The New York Times

"Thoroughly engaging . . . In part it is a book about that most unpredictable and pleasurable of human experiences, serendipity. . . . The book is also about something more difficult to pin down, friendship and community."
–The Washington Post

"Carhart writes with a sensuousness enhanced by patience and grounded by the humble acquisition of new insight into music, his childhood, and his relationship to the city of Paris."
–The New Yorker

NAMED ONE OF THE BEST BOOKS OF THE YEAR BY THE WASHINGTON POST BOOK WORLD
Random House Trade Paperbacks, 9780375758621, 304pp.
Publication Date: March 12, 2002
About the Author
Thad Carhart has lives in France for much of his life. He was educated at Yale and Stanford and has worked as an events coordinator in the music industry and as communications head of Apple Compter's European division. A freelance writer and consultant, he lives in Paris with his wife, Simo, and their two children.