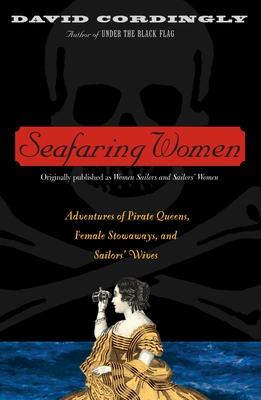 Seafaring Women (Paperback)
Adventures of Pirate Queens, Female Stowaways, and Sailors' Wives
Random House Trade Paperbacks, 9780375758720, 320pp.
Publication Date: March 12, 2002
* Individual store prices may vary.
Description
For centuries, the sea has been regarded as a male domain, but in this illuminating historical narrative, maritime scholar David Cordingly shows that an astonishing number of women went to sea in the great age of sail. Some traveled as the wives or mistresses of captains; others were smuggled aboard by officers or seamen. And Cordingly has unearthed stories of a number of young women who dressed in men's clothes and worked alongside sailors for months, sometimes years, without ever revealing their gender. His tremendous research shows that there was indeed a thriving female population—from pirates to the sirens of myth and
legend—on and around the high seas. A landmark work of women's history disguised as a spectacularly entertaining yarn, Women Sailors and Sailor's Women will surprise and delight.
About the Author
David Cordingly was for twelve years on the staff of the National Maritime Museum in Greenwich, England, where he was curator of paintings and then head of exhibitions. He is a graduate of Oxford and the author of Under the Black Flag, an acclaimed history of piracy. Cordingly lives with his wife and family by the sea in Sussex, England.
Praise For Seafaring Women: Adventures of Pirate Queens, Female Stowaways, and Sailors' Wives…
"This is a book to inform, stimulate, and amuse—an irresistible diversion."
—Baltimore Sun

One of the best books of 2001*

"A valuable addition to nautical literature and a useful contribution to the study of women's history....[Cordingly's] book leaves no doubt that women have played a far larger role in the nautical life than is commonly understood."
—Jonathan Yardley, The Washington Post*

"Cordingly transcends the ideological limits of gender history and brings a world to life."
—The Wall Street Journal

"Revisionism at its most delightful. With no particular gospel to preach, Cordingly works his way through layer after layer of overlooked and unconnected written records, finding evidence of women almost everywhere."
—Houston Chronicle

"Cordingly brings a wide range of research together in one expansive volume."
—Boston Herald