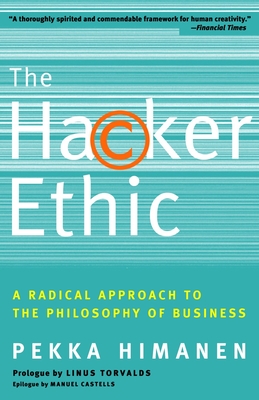 The Hacker Ethic (Paperback)
A Radical Approach to the Philosophy of Business
Random House Trade Paperbacks, 9780375758782, 256pp.
Publication Date: February 12, 2002
Other Editions of This Title:
Digital Audiobook (2/5/2001)
* Individual store prices may vary.
Description
You may be a hacker and not even know it. Being a hacker has nothing to do with cyberterrorism, and it doesn't even necessarily relate to the open-source movement. Being a hacker has more to do with your underlying assumptions about stress, time management, work, and play. It's about harmonizing the rhythms of your creative work with the rhythms of the rest of your life so that they amplify each other. It is a fundamentally new work ethic that is revolutionizing the way business is being done around the world.

Without hackers there would be no universal access to e-mail, no Internet, no World Wide Web, but the hacker ethic has spread far beyond the world of computers. It is a mind-set, a philosophy, based on the values of play, passion, sharing, and creativity, that has the potential to enhance every individual's and company's productivity and competitiveness. Now there is a greater need than ever for entrepreneurial versatility of the sort that has made hackers the most important innovators of our day. Pekka Himanen shows how we all can make use of this ongoing transformation in the way we approach our working lives.
About the Author
Pekka Himanen earned his Ph.D. in philosophy from the University of Helsinki at the age of twenty. His ongoing mapping of the meaning of technological development has brought him into dialouge with academics, artists, ministers, and CEOs. Himanen works at the University of Helsinki and at the University of California at Berkeley.

Linus Torvalds has become one of the most respected hackers within the computer community for creating the Linux operating system in 1991 while a student at the University of Helsinki. Since then, Linux has grown into a project involving thousands of programmers and millions of users worldwide.

Manuel Castells is a professor of sociology at the University of California at Berkeley. He is the author of the highly acclaimed trilogy The Information Age and of The City of the Grassroots (winnter of the 1983 C. Wright Mills Award) and of more than twenty other books.
Praise For The Hacker Ethic: A Radical Approach to the Philosophy of Business…
"A person can be a hacker without having anything to do with computers."
—Pekka Himanen

"A thoroughly spirited and commendable framework for human creativity."
—Financial Times

"As comprehensive and instructive as any [survey] to date... Himanen has a powerful grasp on that strangely intoxicating contradiction that is open-source."
—The New York Times Book Review

"Engagingly written and provocative, and indubitably commendable in its vision of a transformation of how all of us relate to our working life....We should all be more like hackers."
—Salon.com